PERSONALIZED TRAVEL PLANNING AND GUIDED TOURS IN POLAND
Forget about overpriced loud and flashy touristic destinations and get genuine experience in lushy green Poland. Discover it on your own – with our personalized travel plan or take a hassle free guided tour. Save your precious time and money and let us do the planning for you.
CONTACT US – we have a tailor made Plan for you.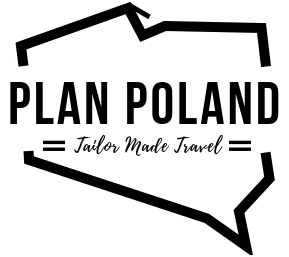 WHY POLAND?
Discover the unspoiled beauty and forget about crowds
Read more about Polish destinations
and touristic attractions on our blog
The capital can be pretty tiring. So anytime you can you should leave it and check out the amazing little towns around Warsaw. According to the research short but often…
Video: Polska Agencja Turystyczna
"I would like to send out the most sincere of thank you's to Justyna and Daniel from Plan Poland. I chose to visit Poland to catch up with old friends, and participate in a close friends' wedding. Little did I know I would embark on such a fun and fulfilling adventure across the country. From contemporary art, great parties with even greater people, amazing food and stunning natural landscapes, Poland never ceased to amaze me. This would not have been possible without the help of Plan Poland. I was given help with translation, route planning, purchasing train tickets, and most importantly, a local persepective. I would never have seen the things I did without your input, and I am forever grateful for the experiences I was able to have. THANK YOU!"

David McKenzie

Canada
I recommend Plan Poland. There is a chance that if not for them, during past 10 years I wouldn't have seen anything, I wouldn't have gone anywhere or met anyone. So try it.

Maciek Zając

Poland
So far I have been on three trips organized by Justyna from Plan Poland, including to in Karkonosze. It was awesome, I have only good memories from these trips. Justyna planned everything for us, including a pit stop for Czech beer. I recommend Plan Poland to all the hard-workers of the world!

Tomek Kowalczyk
We are grateful to Plan Poland and Z dala od biura for organizing for us unforgettable bike trips!
We had a chance to travel with Daniel and Justyna twice this year. Both trips were organized very well. Even when we ended up in Bory Tucholskie after a catastrophic storm (which happened the night before our holidays), they managed to modify the track and our accommodation to make the trip happen.

The best part of traveling with Daniel and Justyna is comfort. We don't have to worry about the route or planning what to see on the way. They choose routes that are optimal to our biking skills and full of attractions. Plus we can always count on Justyna that she will capture all the fun moments on her camera, as she takes great pictures.

Dorota Czerwińska
TAILOR MADE TRAVEL PLANS JUST FOR YOU
Travel independently with our tips and recommendations
Following prices apply only to plans for not more than 8 participants and/or not longer than 10 days
-20% for plans for trips up to 3 days
Bronze Plan
€

80

or PLN 350
Recommendation of 2 possible places for accommodation for each day of your stay
Detailed description of 3 touristic attractions in your area, info on their availability, timetable and tips for booking
Tips for the best dates to travel – how to avoid crowds and high prices
Paying, transport, safety – everything you should know about Poland
Access to travel support group – no question remains unanswered!
Silver Plan
Easy Travel package
€

110

or PLN 450
Recommendation of 2 places for accommodation for each day of your stay
Detailed description of 4 touristic attractions in your area, info on their availability, timetables and tips for booking
Practical information on traveling to Poland – paying, transferring, what to bring, safety, traveling by bike
Access to travel support group – no question remains unanswered!
Interactive map of touristic attractions in your area with description in English
Foodie alert – recommendation for what to eat and where
Recommendation of useful apps
Golden Plan
€

150

or PLN 650
Recommendation of 2 places for accommodation for each day of your stay
Detailed description of 6 touristic attractions in your area
Practical information on traveling to Poland – paying, transferring, what to bring, safety, traveling by bike
Interactive map of touristic attractions in your area with description in English
Tips for the best dates to travel – how to avoid crowds and high prices
Access to travel support group – no question remains unanswered!
Foodie alert – recommendation for what to eat and where
Recommendation of useful apps
Support in booking accommodation, transport and touristic attractions
Last minute support – you wanna change your plans when already in Poland? Let us know in advance and will help you in rearranging.
10 postcards from Poland made by Plan Poland
On request – transport information