Wigry is one of the biggest lakes in Poland. It is located not in Mazury, but Suwalszczyzna – a lakeside closer to the border with Lithuania. Biking around the lake is definitely a highlight of visiting this area so if you are wondering which region would be great to discover by bike, think no more.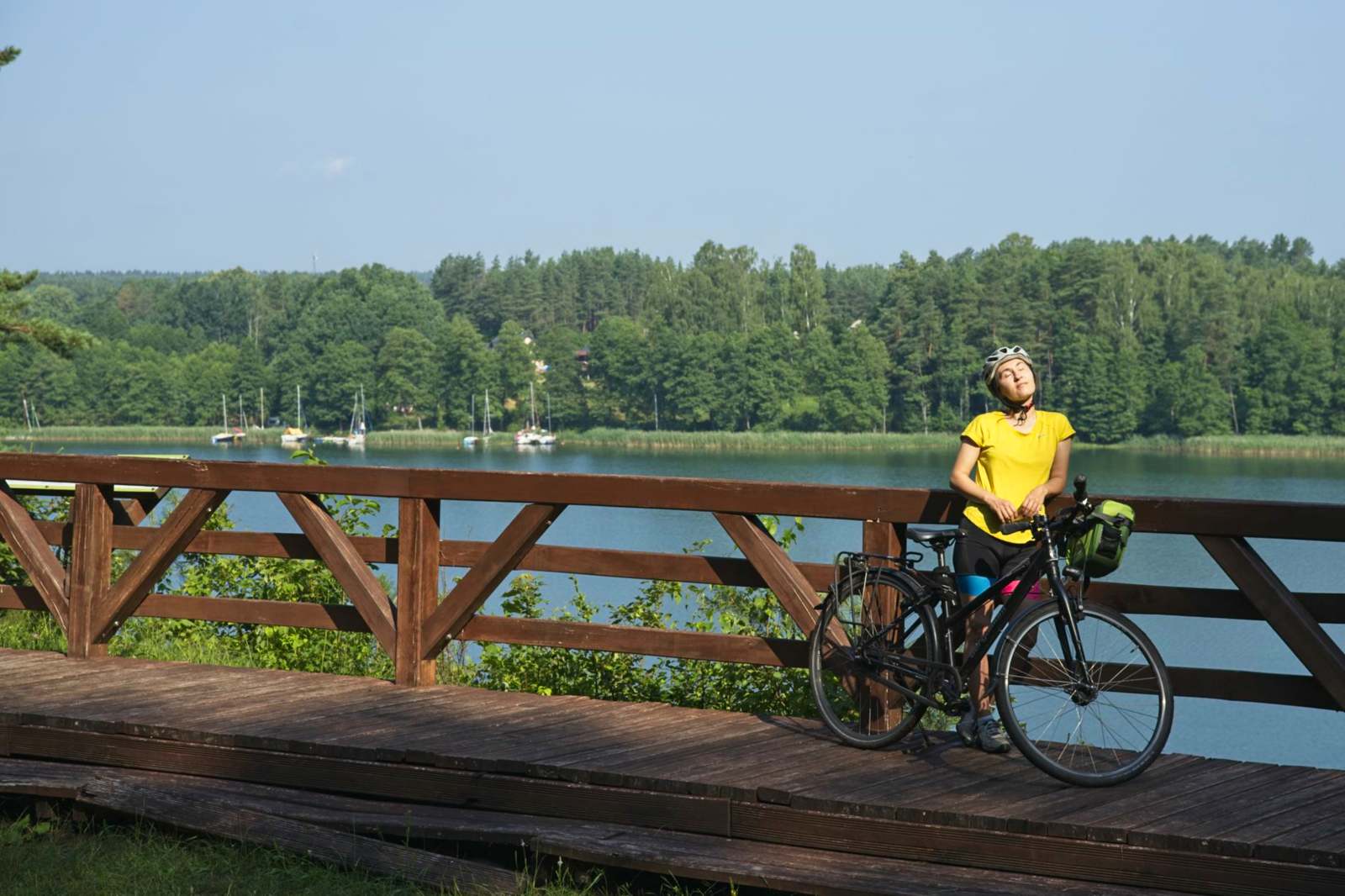 Green bike trail around Wigry lake
You are going around Wigry lake by bike? Follow the green trail. It is a very well-marked 42 km route.
It follows mainly gravel roads. You can count on the asphalt near Bryzgiel and Stary Folwark. The landscape around you will change along the way:
From Mikołajewo to Bryzgiel – forests and meadows
From Bryzgiel to Stary Folwark – mainly forests, driving along forest paths and asphalt
From Stary Folwark to Mikołajewo – meadows and fields
One of the most known attractions on the way (besides the beautiful lake) are wooden trails. The longest one – in the village of Kładka to the southwest of Stary Folwark. There is also one in Piaski.
The route is not demanding, but there are plenty of climbs – both in the woods and on the field roads.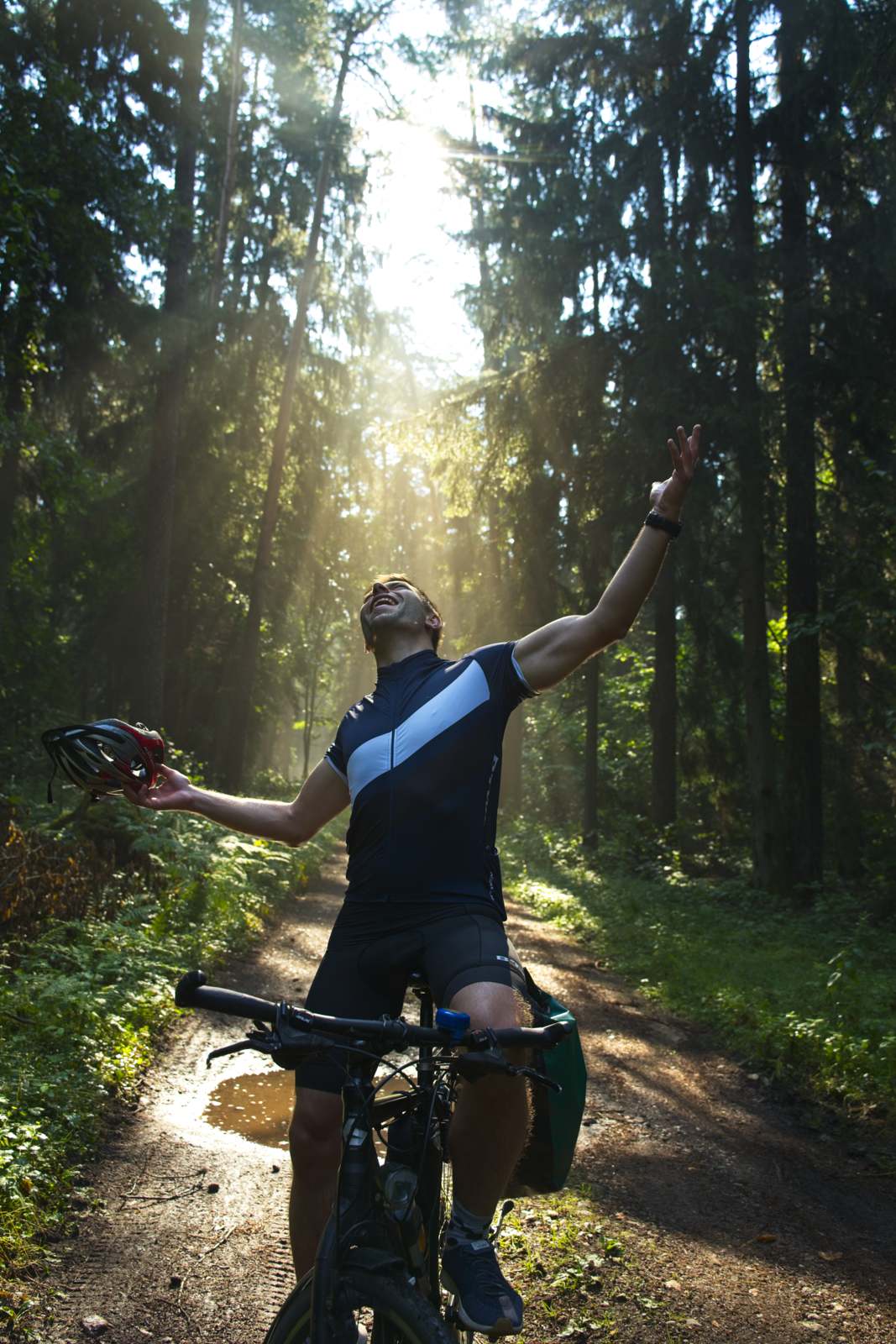 Biking around Wigry lake starting points
Wigry lake is a highlight of Wigierski National Park, which is located close to Suwałki city. It is a very green and quite hilly part of Poland.
It has a convenient train connection with Warsaw and Białystok. For example, from Warsaw you can get here IC or TLK in about 5 hours. There are even direct connections.
From the train station in Suwałki, you can enter the green trail following route 653.
Or take a less official route through Mała Huta and Huta. It is very picturesque and will allow you to see the lake on the way. Curves and Dudes. At Hutta Folwark you have to turn right to the west and then to Leszczewo. It is a longer and unmarked route.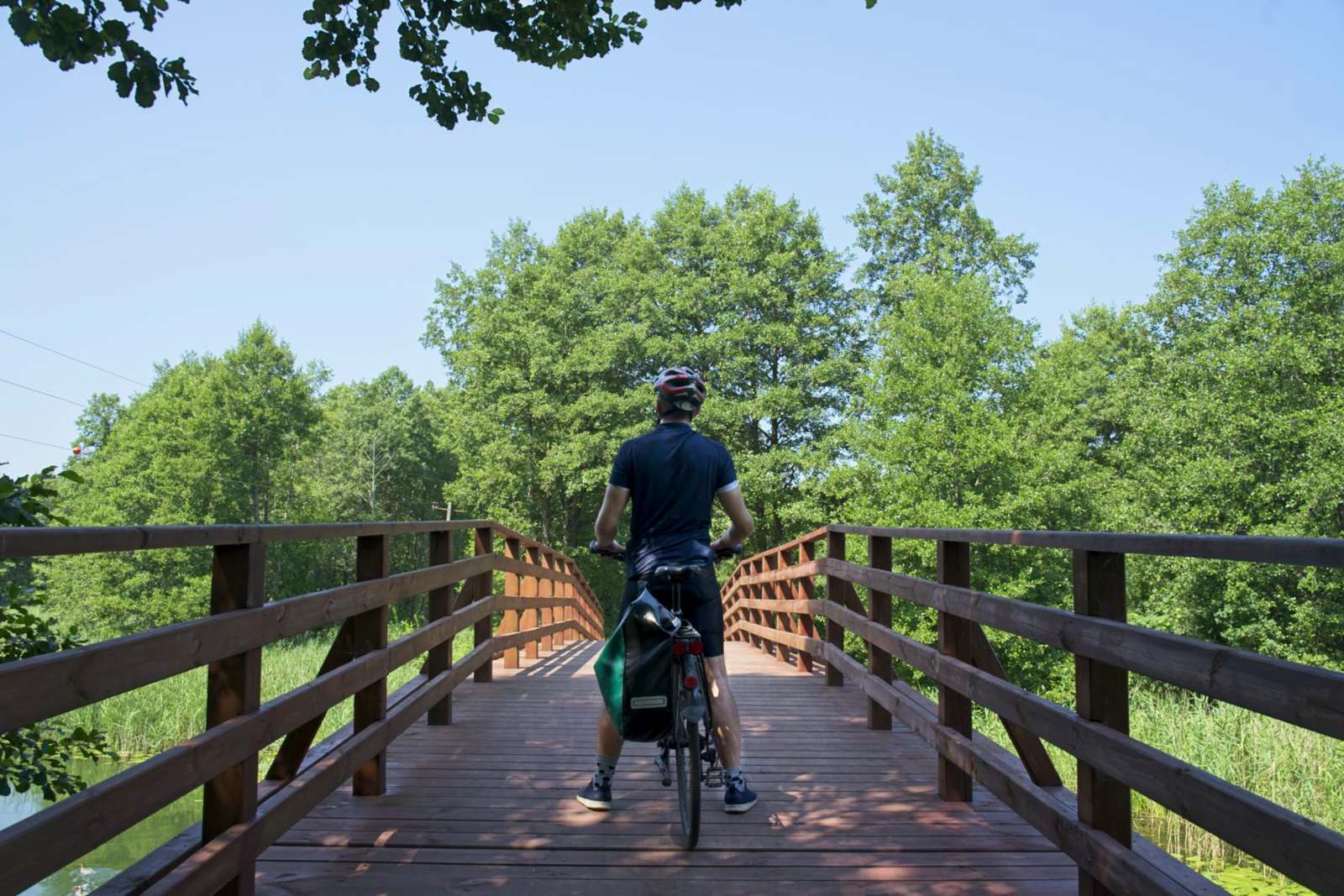 Parking lots around Wigry lake
As biking around Wigry lake should not take longer than two days (it is just 42 – 48 km), you might consider coming there by car.
There are not too many cities and convenient parking lots on the route. If you plan to get there by car, the best starting points are Bryzgiel, Stary Folwark, Baza Rybacka in Czerwony Folwark, and the office of the Wigry National Park in Krzywe, where the green trail officially begins.
We have marked the parking lots on the map. Parking near the Wigry National Park in Krzywe costs PLN 10 for the whole day.
Biking with kids around Wigry lake
If you are expecting (or used to) super safe roads, be prepared for a slight change. The green trail goes by the public roads, especially in the south and the north. What is worth knowing, the trail was designed for … hikers. Only after a few decades, it became a bike trail, as most tourists were not interested in hiking around a huge lake.
Also, the wooden paths in Kładka, Piaski (and one more place which name I do not remember) might be too narrow to fit a trailer.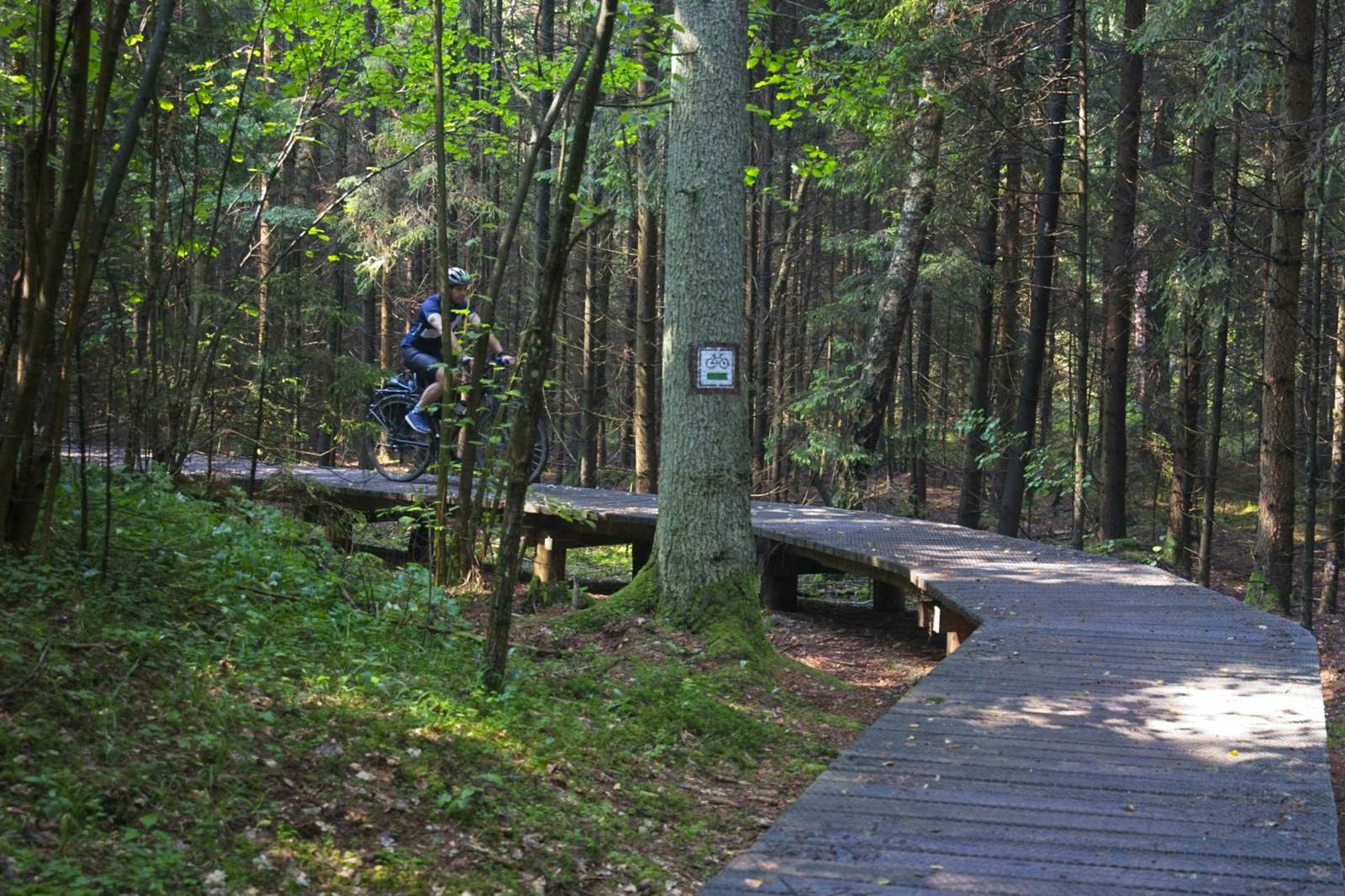 Where to eat – shops and restaurants on your way
Apart from Gawrych Ruda, Bryzgiel and Stary Folwark, you will not find too many places to fill your bellies or water bottles on the route. Basically, apart from these places and a small cafe near Mikołajewo, we did not see any shops at all.
You can eat at the restaurants: Widok and Wigraszek in Bryzgiel, at the narrow-gauge railway station in Gawrych-Ruda, in numerous dumpling places, and rather average diners near the monastery in Wigry. If you are going there in the low season, check if it will be open. Many businesses operate here seasonally.
Wigry is one of the biggest lakes in Poland. It is located not in Mazury, but Suwalszczyzna - a lakeside closer to the border with Lithuania. Biking around the lake…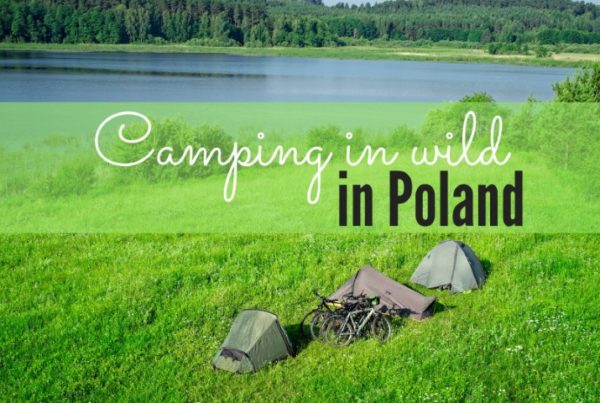 Why camping in the wild in Poland is easy Poland is one of the best places in Europe to camp in the wild. Reasons? First of all: in general it…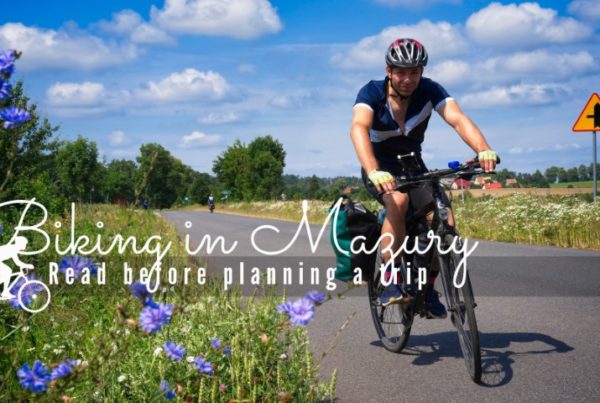 Mazury is one of the most beautiful parts of Poland. Also, one of the most frequentely visited by tourists, also bikers. In this article you will find some basic tips…
Interesting places around Wigry lake
The lake itself is a reason enough to get on this trail. Suwalszczyzna (the region where the lake is located) is unspoiled, wild, and breathtaking lakeside. I guess it is almost stupid to remind you to take bathing suits with you (or swim naked, but remember that Poland is as conservative as Muslim countries in this regard :() One of the most beautiful beaches is in Piaski (and it is a wild one).
You will see few viewpoints on your way: in Bryzgiel, Stary  Folwark and Krusznik.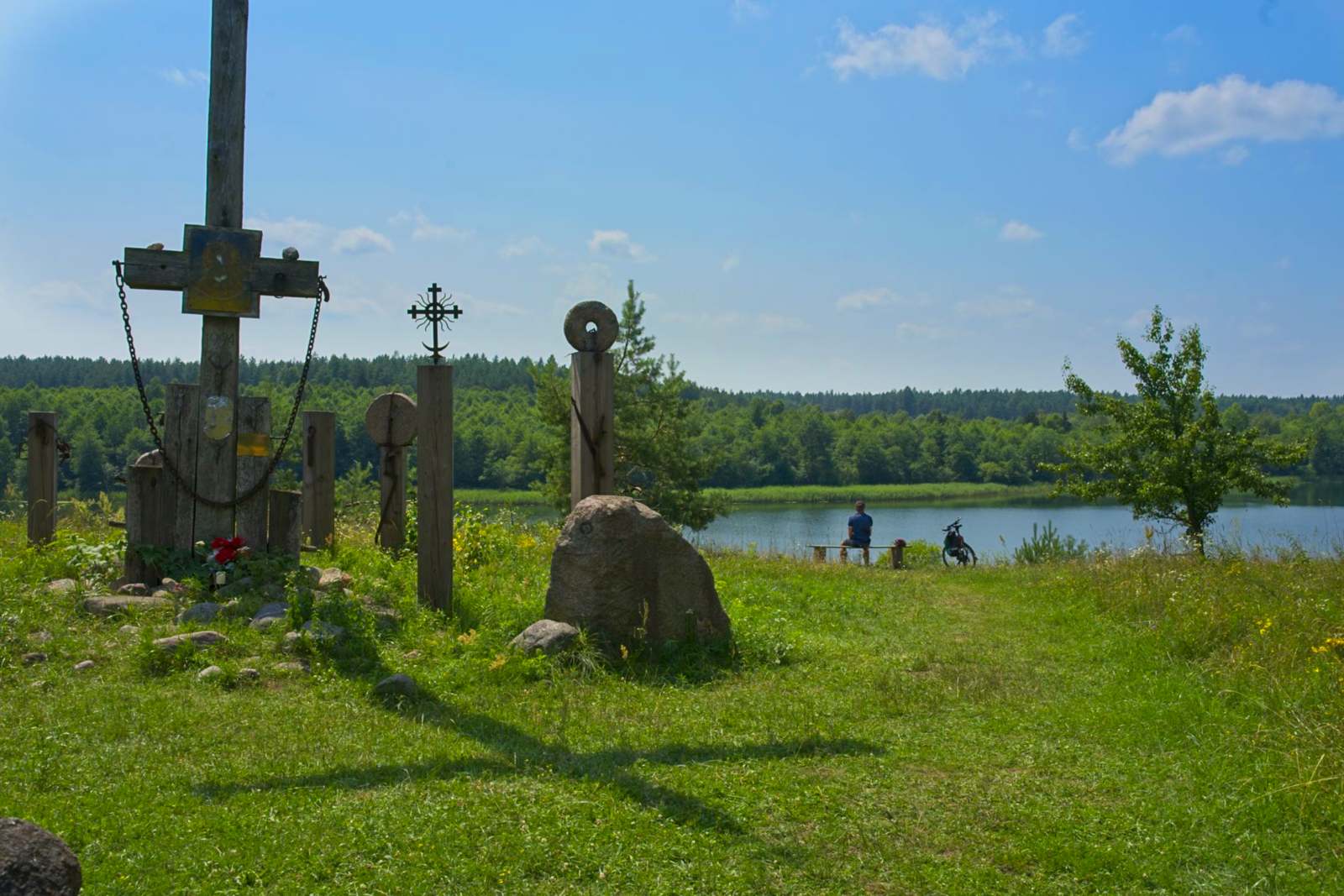 During your trip you will have enough time to check out an ex-monastery in Wigry from the distance. You can also make a small detour to visit the place.
From there it is very close to Fisherman Base in Czerwony Folwark (Baza Rybacka).
I would also recommend making a stop at Czerwony Krzyż (Red Cross).
Apparently, it owes its name to a pink roadside cross that used to stand there. During World War II, the inhabitants of the village sheltered Polish partisans. As a punishment, the village was pacified by the Germans. Just 5 of several dozen farms survived.
To commemorate the fate of the inhabitants of Czerwony Krzyż, a very original monument by Gustaw Zemła and Zdzisław Jaroszek was erected there. It is a wooden cross surrounded by items found in those destroyed farms.