Warning
: Undefined array key 6074 in
/home/sisens/domains/planpoland.com/public_html/wp-content/plugins/easy-table-of-contents/includes/class.post.php
on line
265
Warning
: Undefined array key 6074 in
/home/sisens/domains/planpoland.com/public_html/wp-content/plugins/easy-table-of-contents/includes/class.post.php
on line
269
Mazury is one of the most beautiful parts of Poland. Also, one of the most frequentely visited by tourists, also bikers.
In this article you will find some basic tips that will help you organize your biking trip around Mazury. This is just the beginning, a foundation that will help you to understand what you need in order to get yourself on a biking trail in Poland.
And if you need to know more about biking in Mazury, you can always contact us on Plan Poland.
Organizing biking trip in Mazury, Poland
If you have never been to Poland, or Mazury, you probably need some basic idea how things gets done there.
Where is Mazury
Mazury is a region of Poland located North East from Warsaw. Many people are used to calling the whole lakeside in the northern Poland "Mazury", but in fact it is four seperate regions. Starting from the West around Malbork and Kwidzyn is Powiśle. Then goes Warmia with its capital city in Olsztyn.
Around 30 km South and East from Olsztyn starts Mazury. This lake region is the biggest and it ends somewhere near Suwałki. It is also the one that acts like magnet on tourists. This is where you find the biggest lakes, like Śniardwy, Mamry, Niegocin, etc. It is perfect for a sailing trip.
Suwałki on the other hand is a capital of Suwalszczyzna (which is perfect place for example for kayaking).
In this article we will focus on Warmia and Mazury.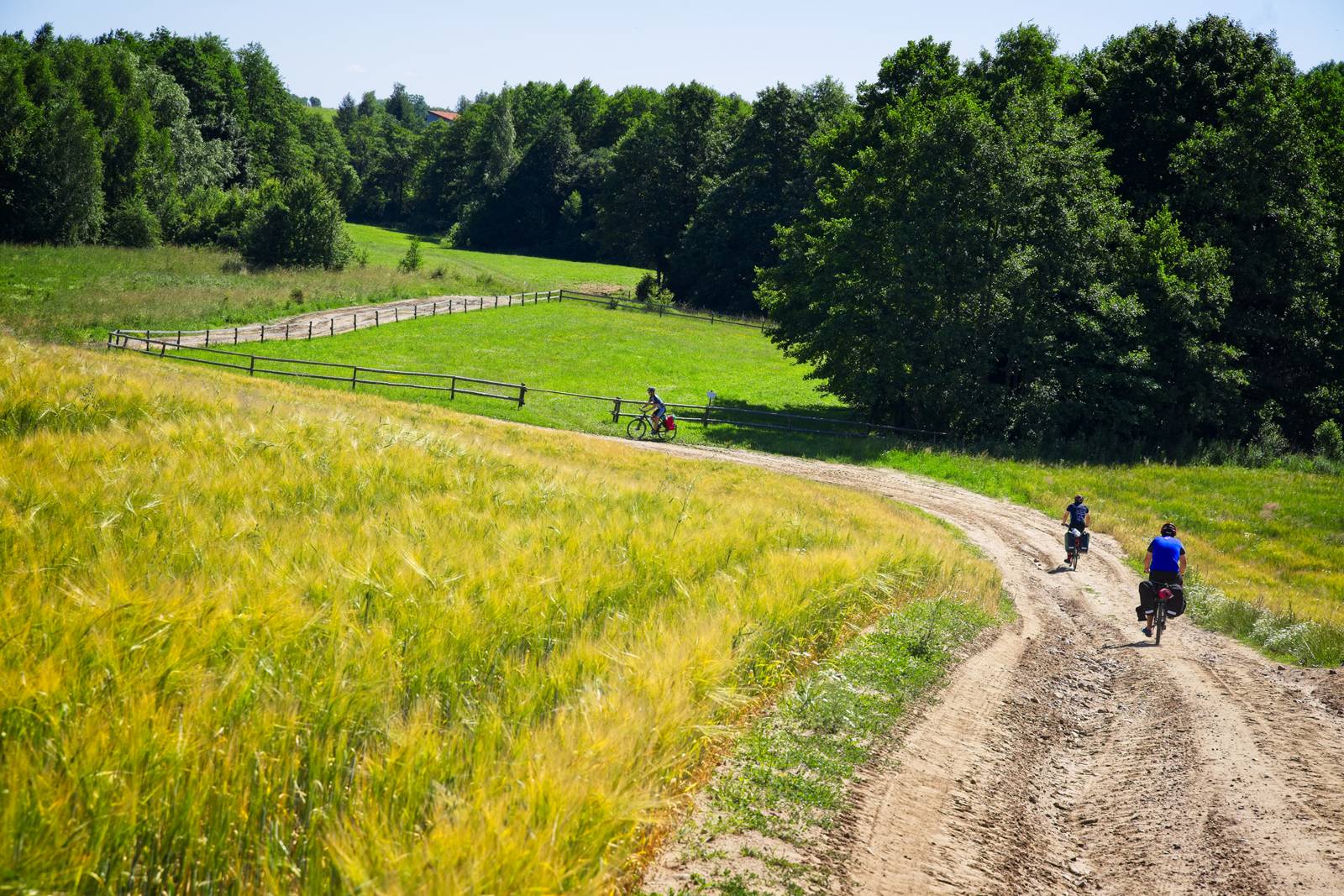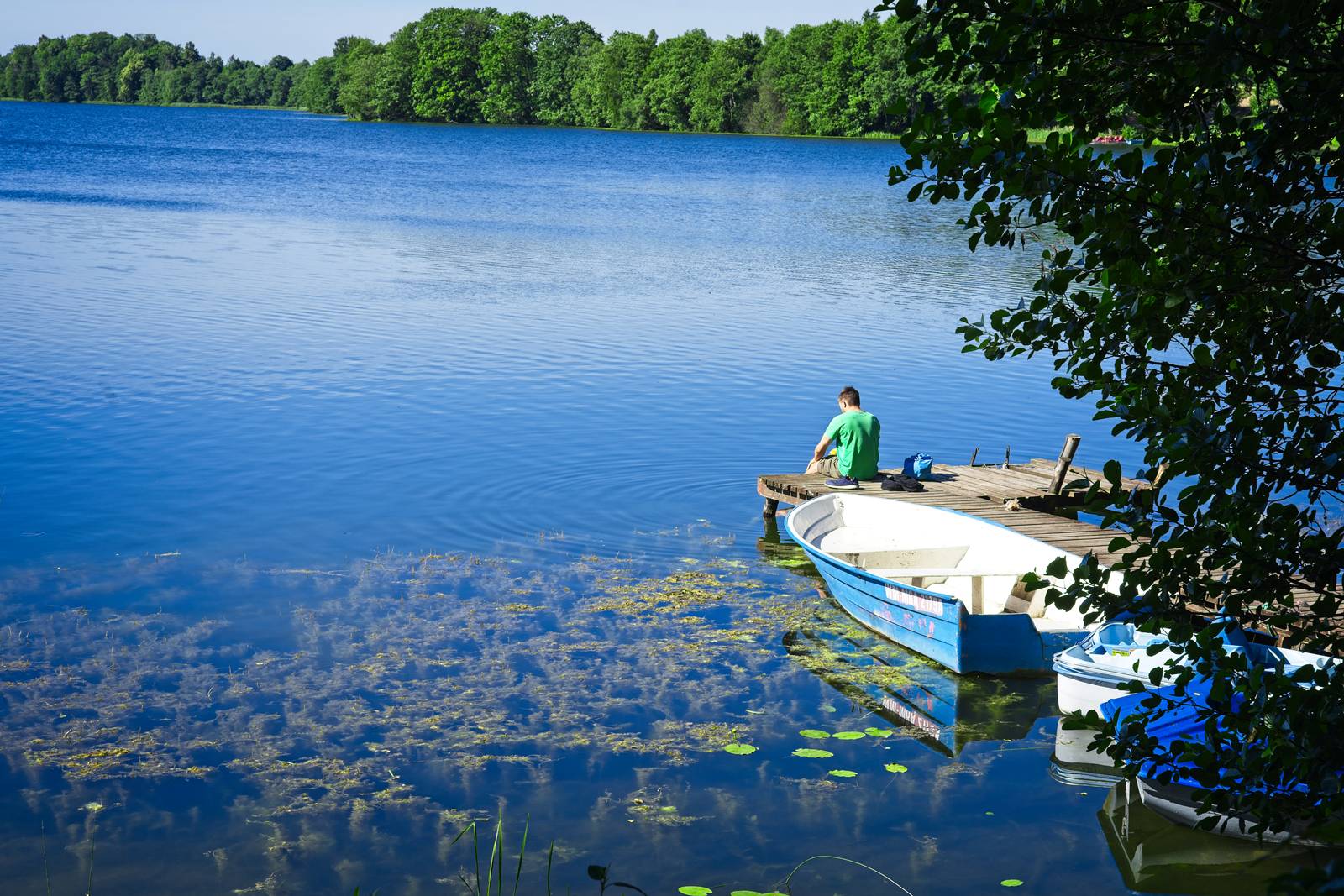 How to get to Mazury and Warmia
If you are planning a biking trip to Mazury, it will be the easiest to get there with a train. Depending on how much time you have for your trip, we recommend choosing cities like Olsztyn, Ełk or Giżycko for your starting point. Iława and Malbork on Powiśle are also great places to start if you plan at least seven day trip.
To Olsztyn you can get with a direct train from Warsaw, Łódź, Poznań, Wrocław, Cracow, Gdańsk or Białystok.
If you travel with a car, it takes around 3 hours to get to Olsztyn or Giżycko from Warsaw, depending on traffic. On Friday and Thursday summer evenings you can expect lots of traffic going into that direction.
Also, the closest airports are located in Olsztyn, Warsaw and Gdańsk.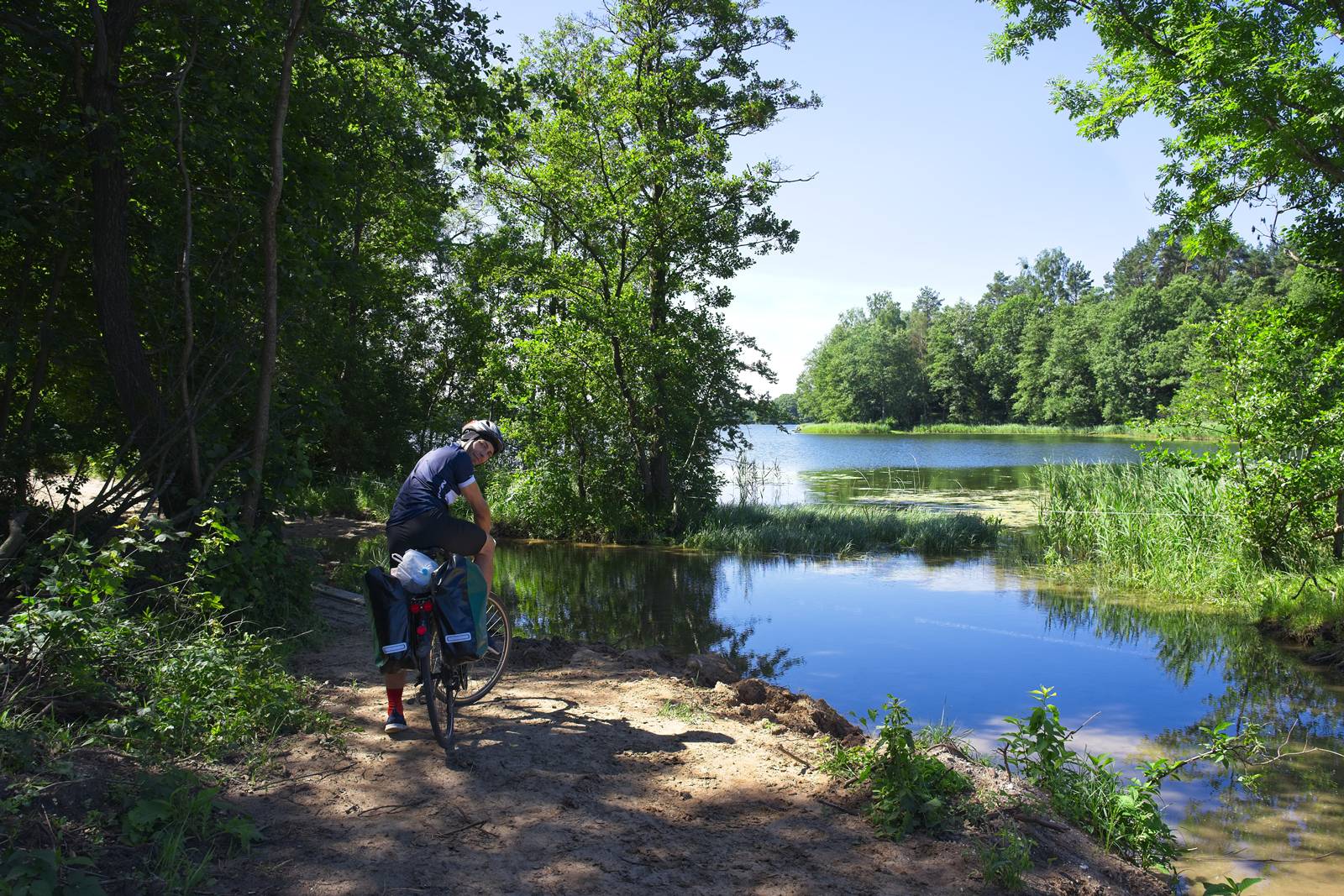 Where to sleep during biking trip in Mazury
We have a good news to those of you who travel with a tent. Outside of the region of Great Lakes it is very easy to find a good place to camp in the wild. Access to the lakes is open, there are many beaches and little sheds located in the picturesque places.
You can also use camping sites in which you have to pay a symbolic price (like 50 euro cents per night). They are located in the beautiful scenery in nature reserves and we highly recommend them especially if you are not used to camping all alone. You will find them for example at Lake Nidzickie. These particular are called Binduga Drapacz and Binduga Bobrowa.
Camping sites in Mazury and Warmia
If you are more into sleeping in the regular camping site, with toilets, showers etc. there are many of these in Mazury. The price for night is usually divided into a fee for: a tent, person, car, shower or any other infrastructure  you are interested in. There are many camping sites around Great Lakes and Valley of Krutynia. However, we didn't use them, as we rather sleep in the wild.
It is also worth to know that many of these places lack infrastructure. In my opinion it is not worth to pay for a place that doesn't provide toilets nor showers.
Accommodation in hotels and guesthouses
Of course, there are many beautiful guesthouses and small hotels along your way. We can recommend the following:
If you use the links included in the article we will get a little extra penny from our Booking.com partner and it will cost you nothing. Thanks in advance for your support!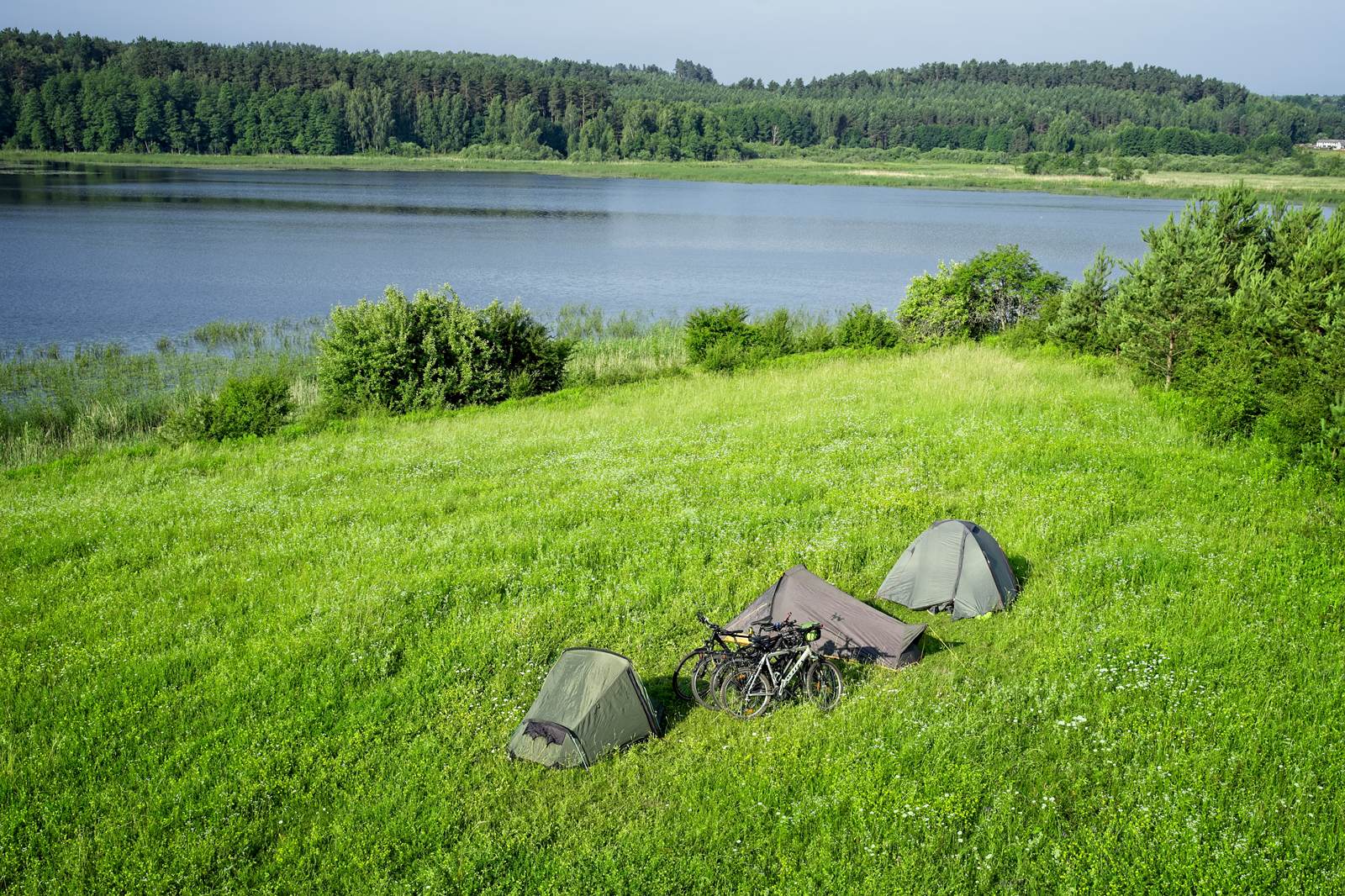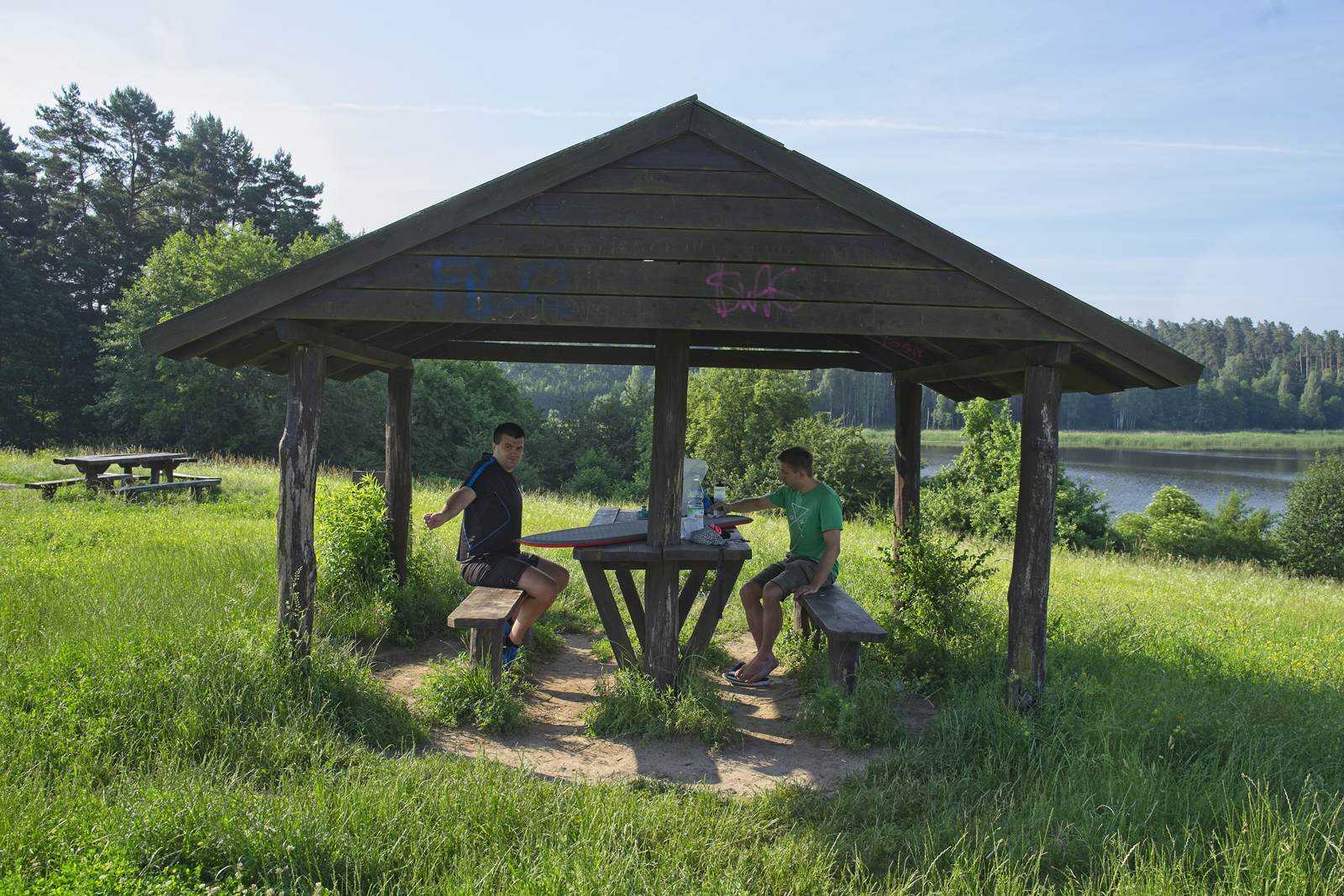 What to visit in Mazury
Why is it even worth it to come to Mazury and Warmia?
It is one of the biggest lakesides in Europe outside of Scandinavia and Russia. The so called Land of Great Lakes in Mazury (more or less a land between Ruciane Nida, Mikołajki, Giżycko and Węgorzewo) has been one of the New7Wonders contest finalists, eventually landing a place in the top 14 destinations in the World. There are over 2600 lakes in Mazury and many of them have crystal clear water.
Mazury is a great place for a summer bike trip. You can bike all day along green forests, make stops at the lake for a quick swim. And then find a perfect camping spot with a view for which in a hotel you have to pay with gold bags. And if you come in the autumn maybe you will hear overpowering roar of the deers during the rut.
If this is not enough for you, get this. Mazury is full of old Teutonic castles and churches. Plus this is a place where Hitler built its Wolf's Lair in Kętrzyn – a secret head quarters turned into an open air museum.
Where to bike
Great Lakes are of course spectacular and it is worth to see them. However, taking into consideration the problems with finding a place to sleep in the wild, safety on the roads and number of people, I would advice not to make it your prime destination for a bike trip around Mazury.
It can be much more rewarding to plan your route around villages and towns like Łajs, Wojnowo, Spychowo, Karwica and many others which are off the beaten track.
Check our previous post about Plan Poland's favourite places in Mazury.
In our opinion the following parts of Mazury and Warmia are the most interesting if discovered by bike:
Olsztyn region: Warmia Forest (Warmiński Las)
Olsztyn alone has a very good bike paths system, which makes it a good base for a trip. But it is good to remember that it is still a big city.
Krutynia river – the forests surrounding the river between Spychowo and Ruciane Nida is beautiful and easy to bike through
Forests between southern edge of Śniardwy lake and Pisz – Popielno, Wiartel
Safety on the roads and bike paths in Mazury
In Mazury, you can expect safe bike paths only in a proximity of the bigger towns like Mikołajki, Olsztyn, Ruciane Nida. They are usually made of paving sett and are not comfortable.
However, outside of the region of the Great Lakes it is very comfortable and generally safe to cycle along the small county roads. The traffic there is very small. You will be passed by a car every 5-10 minutes or so.
In summer, in the region of the Great Lakes even the smaller roads are not so safe to travel. The traffic is huge quite big (to see a huge traffic go to Neapol or Amalfi Coast).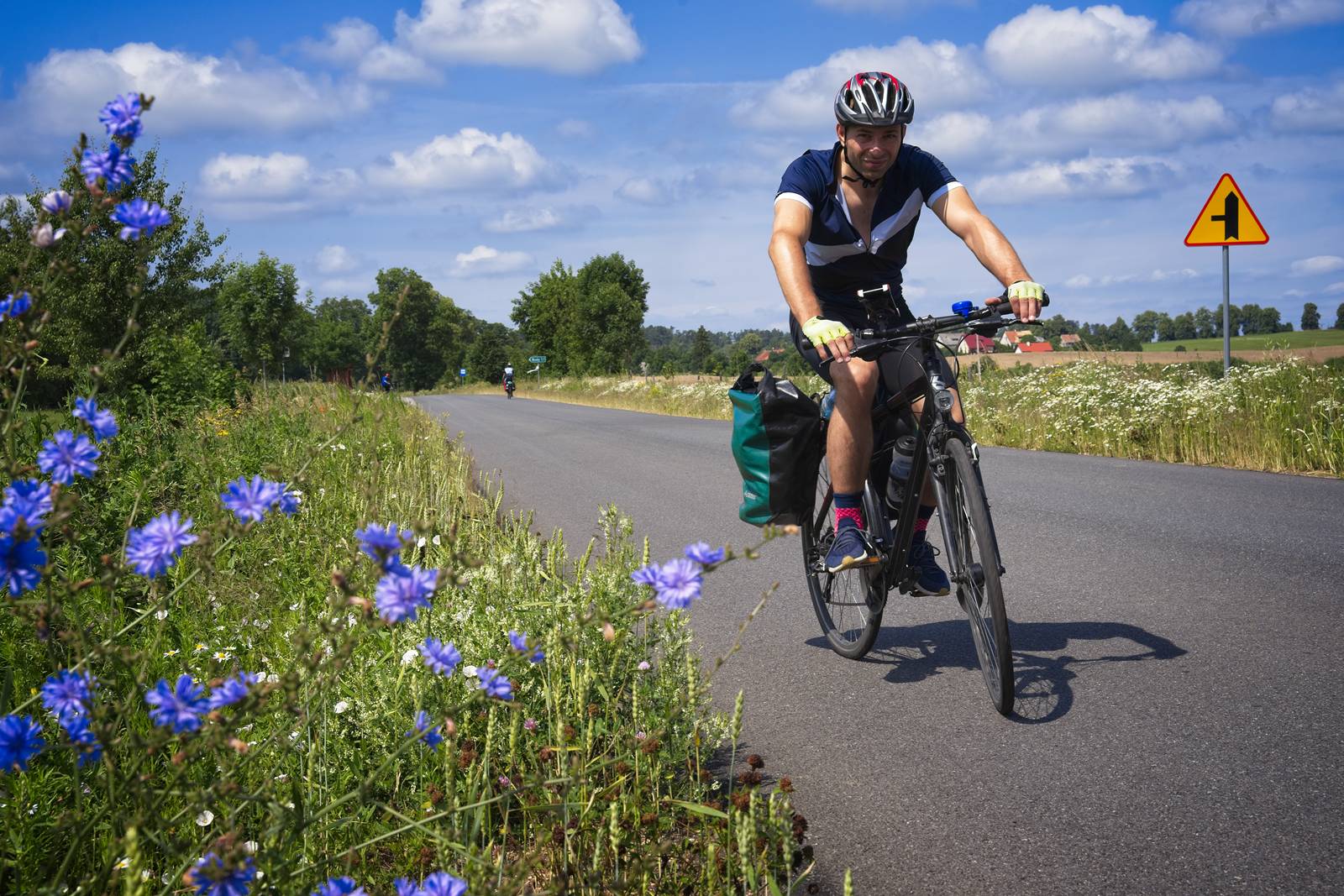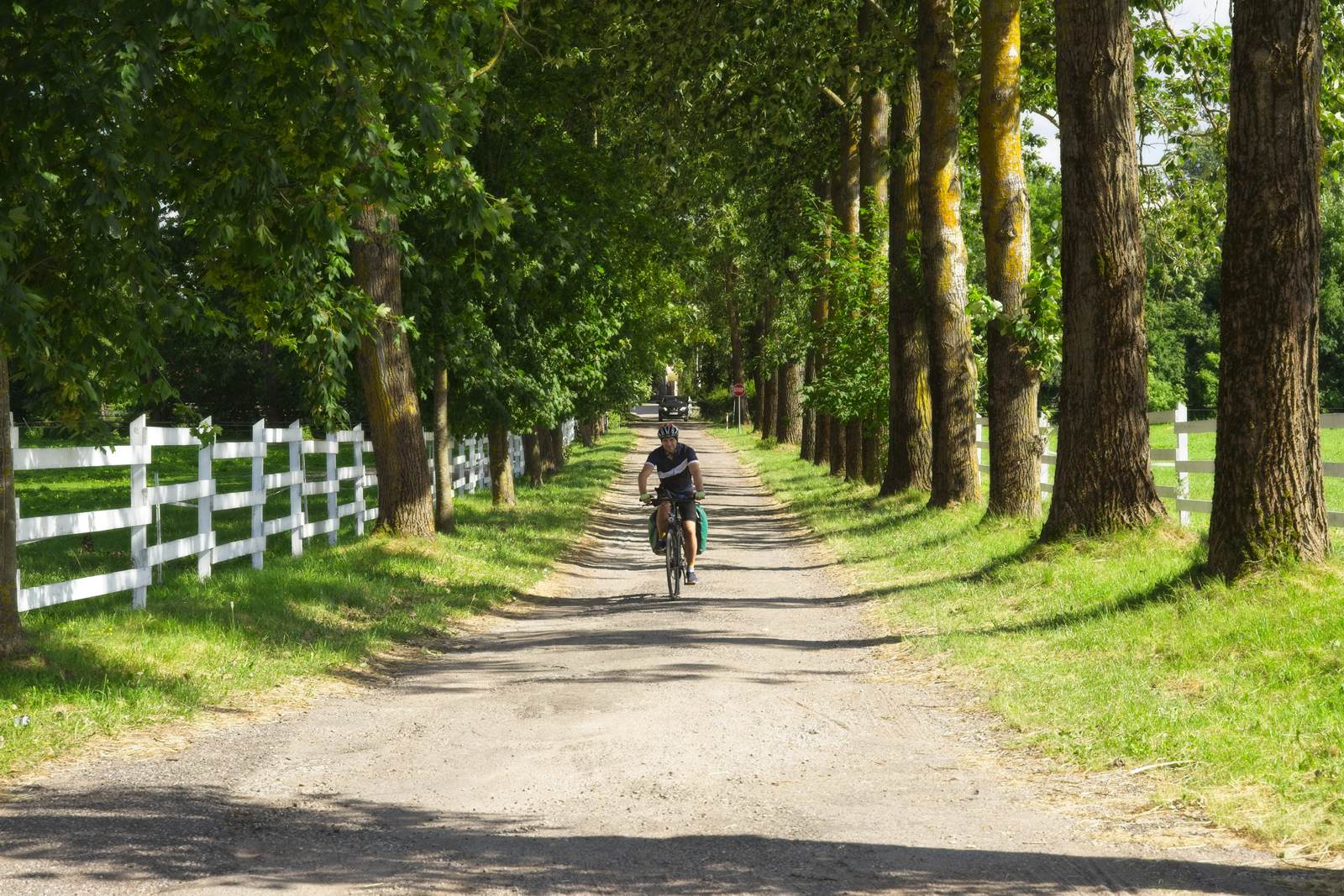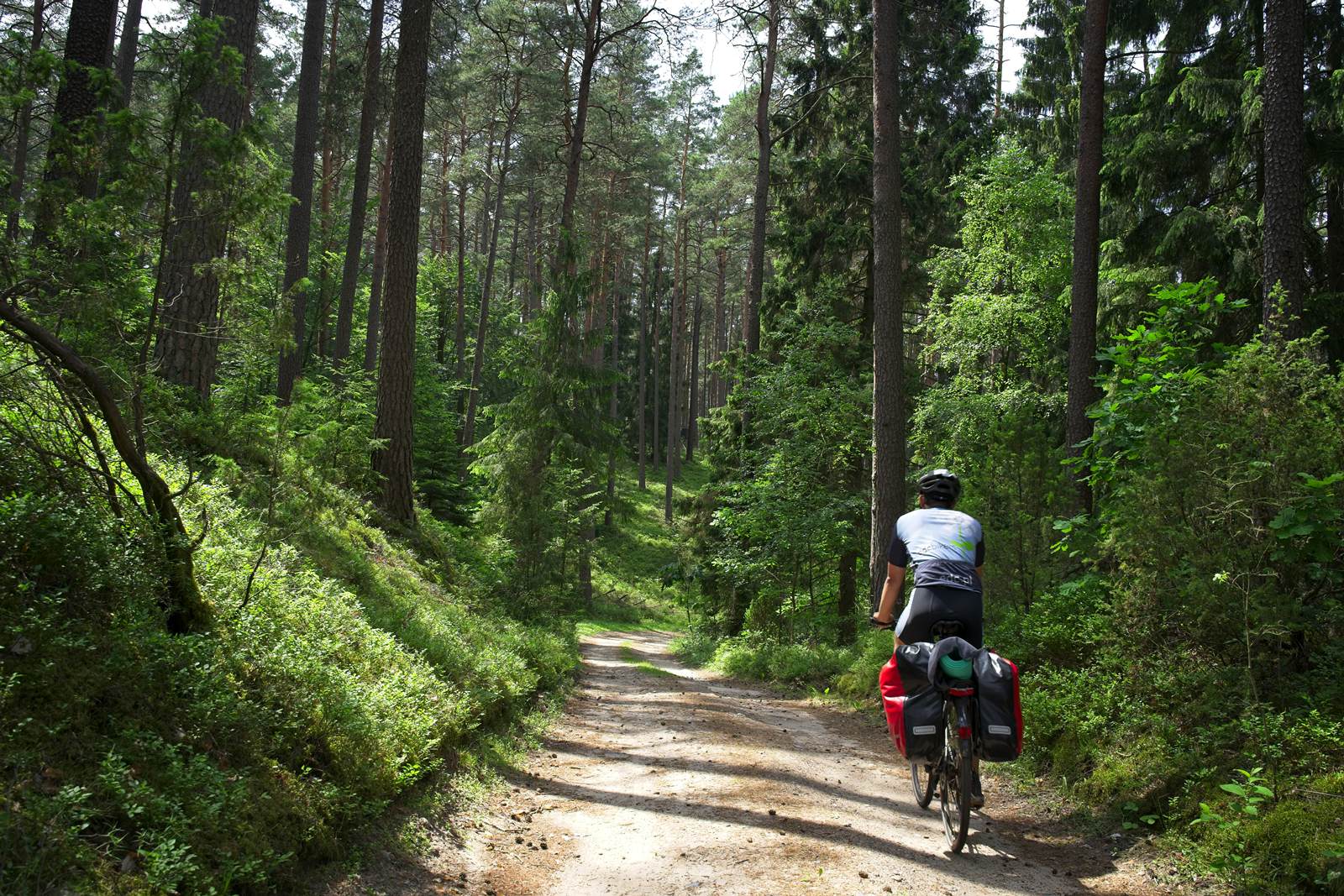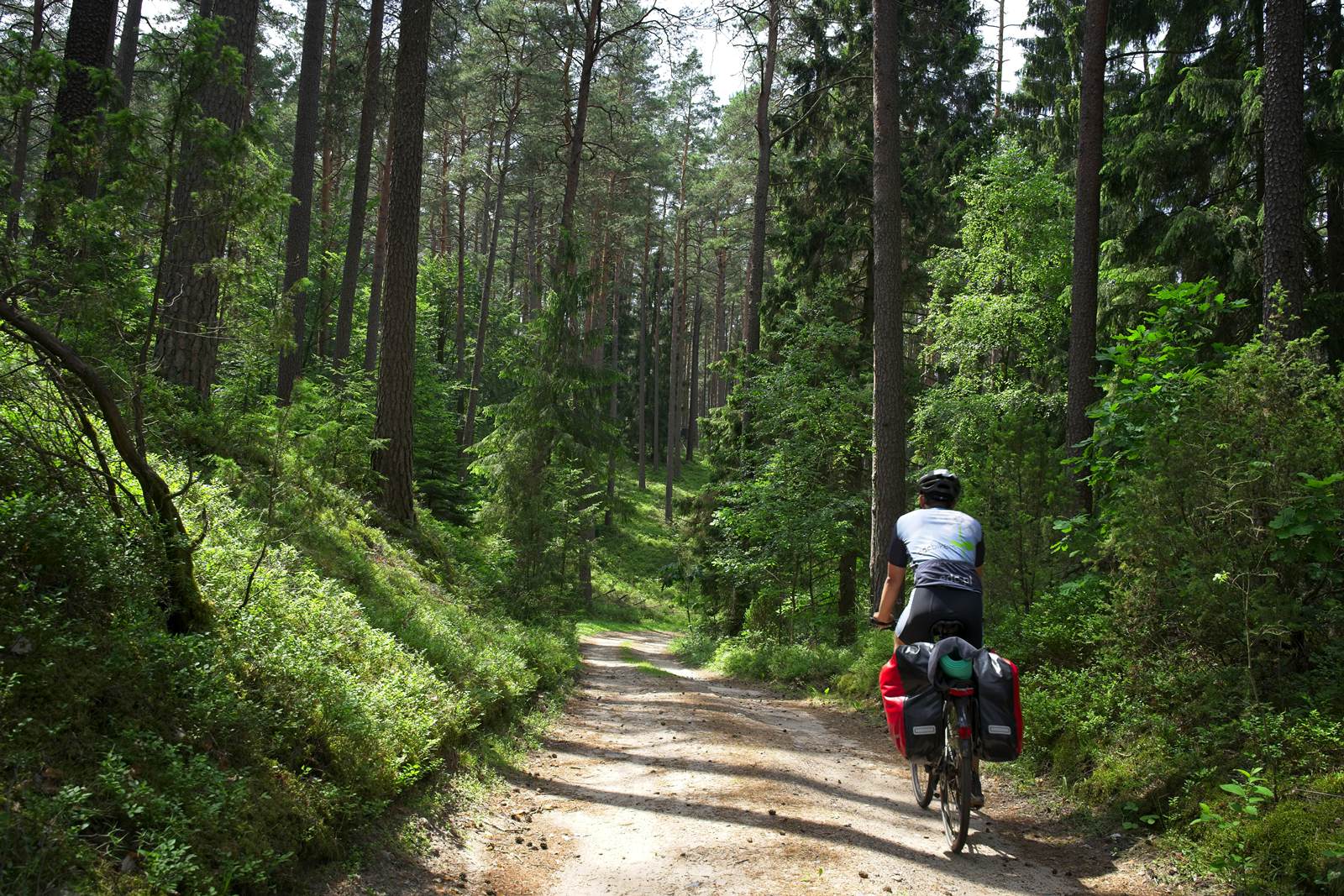 Difficulty level
it is worth to know that Warmia is much more hilly than Mazury. If you decide to bike West and North from Olsztyn, be prepared for a quite tough ride. The roads there are in a worse condition than in more developed part of Great Lakes.
Also, so called Mazury Garbate are quite a challenge.
If you are looking for a region that is easy to travel, we recommend dicovering lakes between Olsztyn and Giżycko.
Things to know
Bike shops – you will not find many on your road. However, there's a good news – some of the bike shops are not marked on Google Maps. So if you find yourself in the middle of nowhere, thinking how to get to the closest shop 20 km from you, it might just turn out that there is some in the closest village.
People will be ready to help when you're in need. It is easy to hitch-hike.
Don't forget to bring cash. Most of the places accept payment with card. However, there are places where the terminal will not be seen in another 20 years.