Warning
: Undefined array key 4725 in
/home/sisens/domains/planpoland.com/public_html/wp-content/plugins/easy-table-of-contents/includes/class.post.php
on line
265
Warning
: Undefined array key 4725 in
/home/sisens/domains/planpoland.com/public_html/wp-content/plugins/easy-table-of-contents/includes/class.post.php
on line
269
What is Mazury and how to get there
Mazury is a lakeside located in the Northern Poland. Known also as a Land of Thousand Lakes, it is the most popular sailing destination in Poland. As the biggest lakes: Śniardwy, Mamry, Niegocin, Dargin and many others are connected by canals, you can sail from one side of Mazury to the other in two – three days.
It will take around 4 hours by car to get to Giżycko from Warsaw. If you travel on Friday, expect traffic. There is also an international airport in Olsztyn, located just 60 km from Ruciane Nida, one of the top destinations in Mazury.
You can start sailing from up north (Węgorzewo) and make your way south to Mikołajki or even further to Śniardwy lake, or the other way around.
Keep in mind that the biggest Polish lake is considered also the hardest to sail through, due to many obsticles hidden under the surface of the water, which are very often not marked, even on maps. It is also full of big motor boats packed with tourists who signed up for discovering Śniardwy by water.
When to go sailing at Mazury
The high season is off course July and August, when the weather is the best and the school time is over. You should also expect crowds during the first week of May and during Corpus Christi holidays. These are two long weekends outside of summer season, that always bring a lot of tourist to all the hot destinations in Poland.
If you want to come when the lakes are less crowded (and the prices are lower), book a yacht for late May/early June or early September.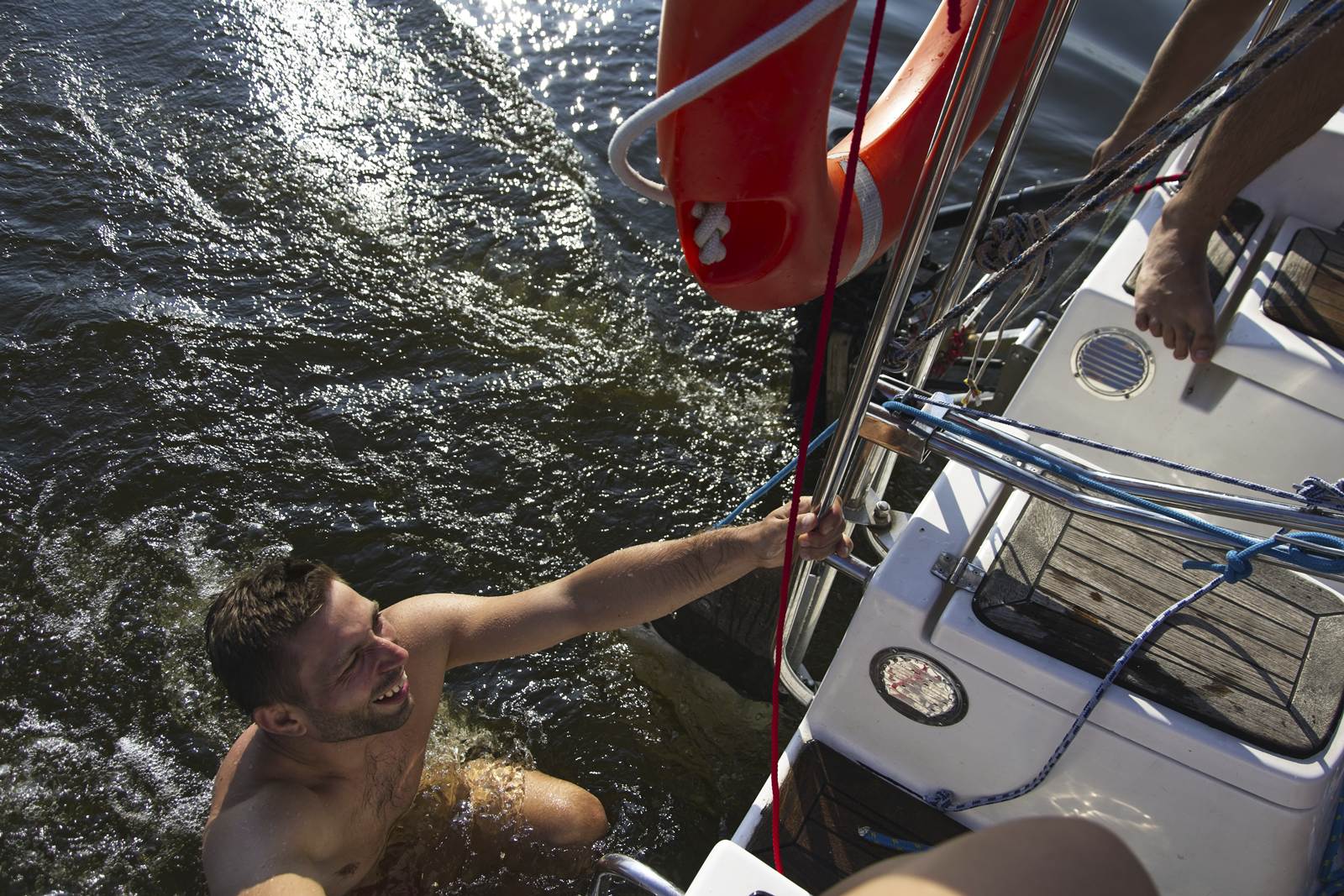 What should you expect from you sailing trip around Mazury?
As sailing in Mazury is veeery popular, you should expect all kind of crowds there. Some people will be experienced and know their way around the boat, like you know their way from bed to the closest coffee machine. The other will be there simply because of the parties and will care more about drinking and having fun than cruising around.
The most happening harbors are Sztynort and Giżycko. Some sailors will even tell you that you should just stay in Sztynort through your entire holidays, cause it so much fun. It is the biggest harbor on Mazury that has everything you need, including the famous tavern Zęza (The Bildge). You will not be bored.
If you are not interested in spending the night listening to yet another shanty, you can try sleeping in nature. There are many islands on the lakes and it is totally legal to park at their bays and spend the night there (just make sure they are not bird reserves, like some of the islands on Kisajno). And don't forget to take everything with you including  trashes!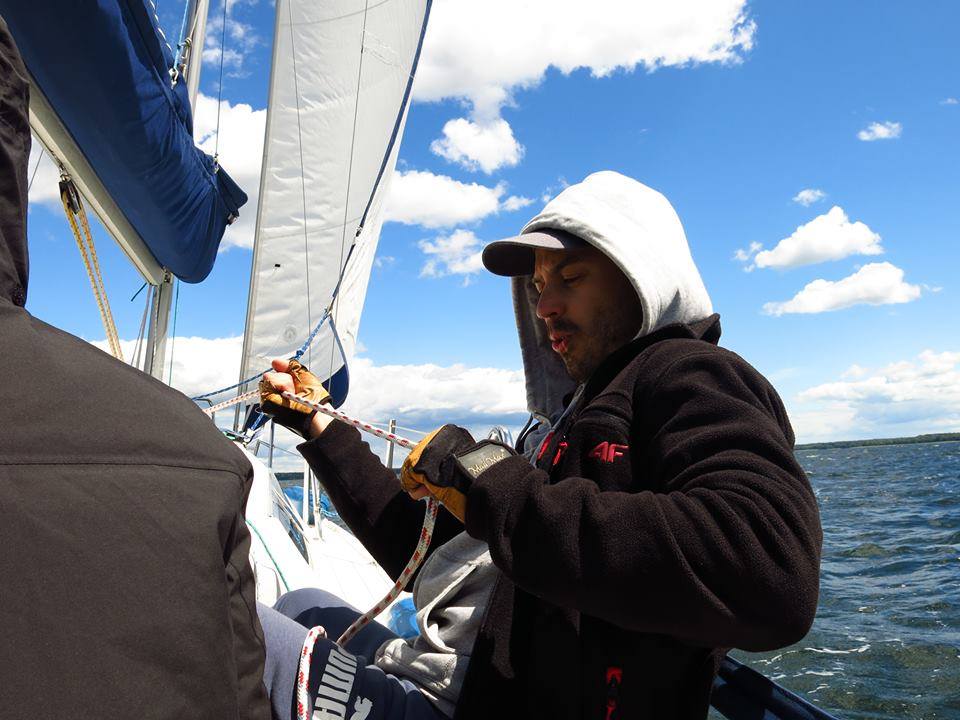 Picture by Weronika Ludwiczak
Tips for beginners
Sailing skills are welcome on the yacht, however don't worry if you are completely green. Below you will find our tips that will help you prepare for the first sailing adventure.
Who can rent a yacht
Just like with cars, to be able to legaly sail on bigger yachts, you need to get a licence.
However, without sailing licence you can become a captain of the sailing boat which is not longer than 7,5 meters. But please don't do it if you have never been on a boat before. After all it is more difficult than riding a bike.
If you want to experience sailing on a bigger yacht, you should either join a more experience crew or hire a skipper. The skipper is a person who has sailing licence, is in command of a yacht and will basically do all the thinking and plan manouvers so you don't have to worry about it.
You can also join a sailing trip organized by a travel agency.
What to pack for sailing trip
It is better to pack in a backpack (or even better a sack if you have one). Hard suitcases don't go well under the deck, where you need to crump a lot of supplies, people and their belongings in a small area. Ability to compress is highly regarded.
Mazury is north of Poland, so it might be chilly even in summer. Especially at night. It is also a matter of luck: you will either get a lot of sun and little wind, or a lot of wind and clouds. Something in between would be considered a perfect sailing weather and is in high demand outside of summer months.
Pack warm clothes, even winter caps, as it will be windy on the lake. You could also use some cycling gloves, to protect your skin from abrasion.
You should also pack a hat, sunscreen and sun glasses. When it is windy, you will not feel the sun infiltrating every inch of your body. But believe us, it is out there!
Also don't forget waterproof clothes – long jacket is a must.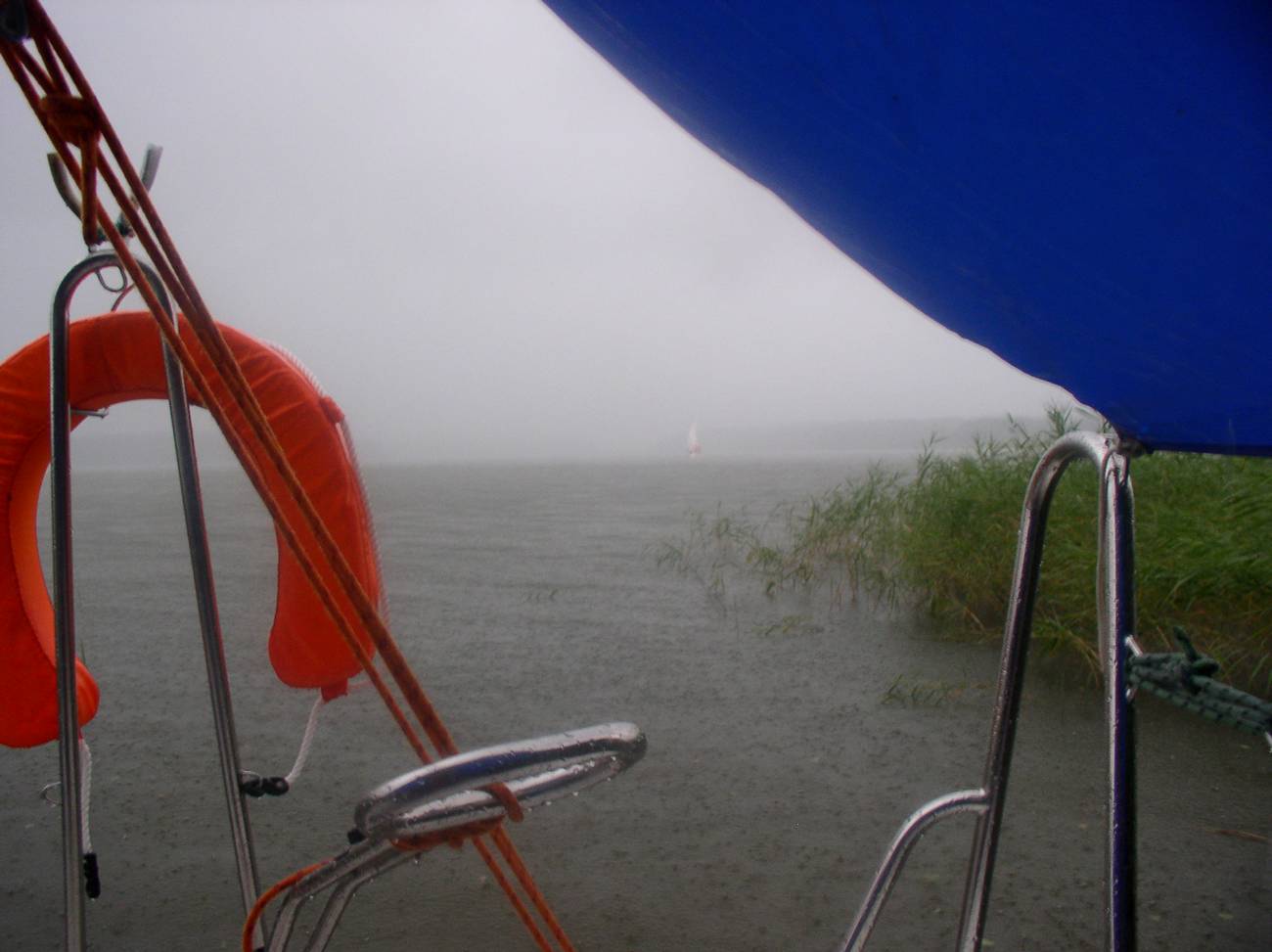 Renting a yacht at Mazury
If you are worring you will not be able to find a rental place on line, stop worrying. Just type "wynajem jachtu Mazury" in Google, choose rental company  and you are ready to go. You only have to decide for the starting harbor and the boat.
Many rentals already offer their services in English, for example Ahoj.
How much renting a yacht cost?
The prices depend largely on the date and type of the boat. The cheapiest yachts can be rent for less than PLN 200 (50 euro) per day. The most expensive once go for PLN 1000 and more (250 euro). Anyone can find something in his price range.
Additional expenses
Renting the yacht is not the only cost you should take into consideration planning your budget. Remember that after the trip you need to return yacht intact: cleaned and in one peace. If you are not feeling like cleaning, you can always have it done for additional PLN 100-200.
Beside that there is of course fee for parking at the harbors, toilets, showers, etc.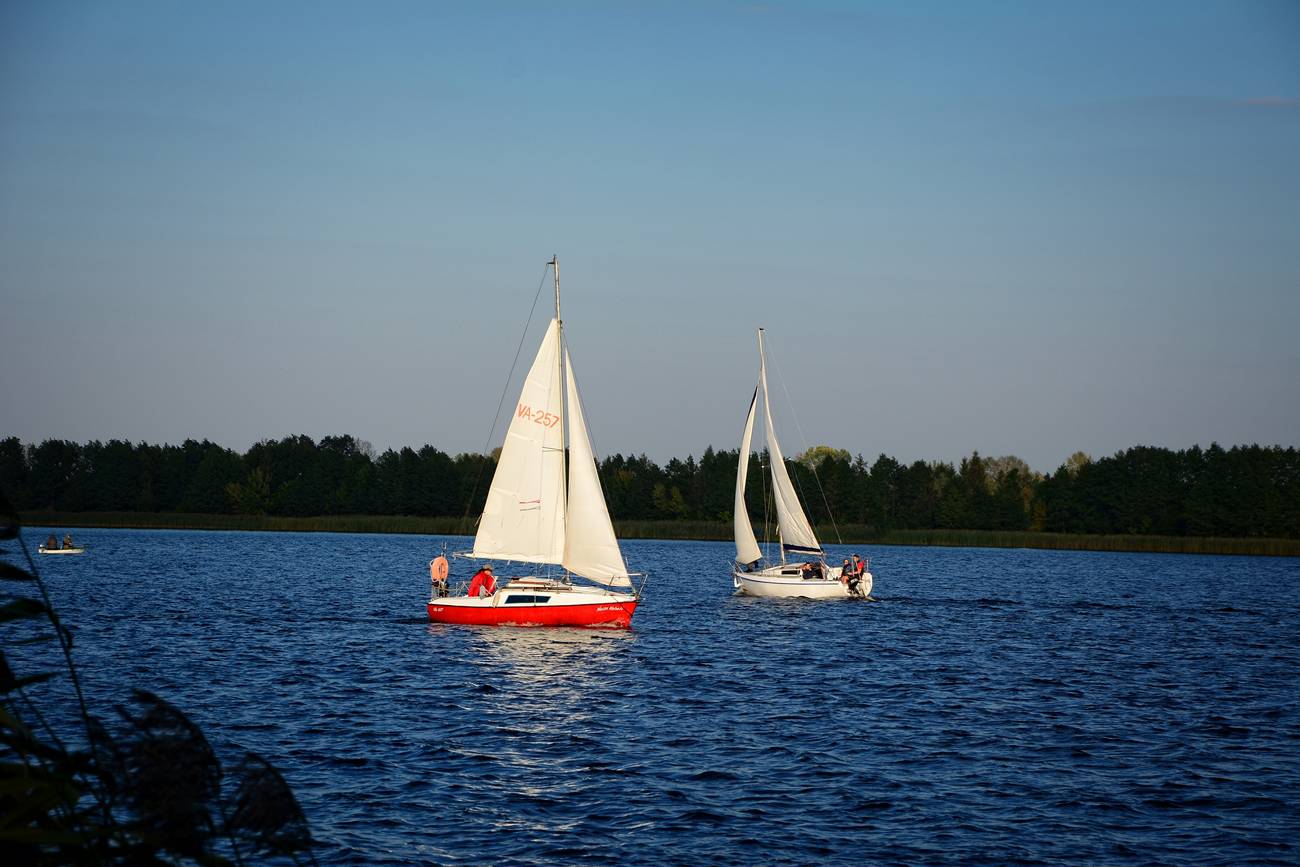 Are you already hooked on the idea of sailing around Mazury? If yachting is not enough for you, emember there is plenty to see on the dry land. Mazury is full of medieval Teutonic castles and vast forests which hides plenty of secrets from WWII. You will read more about North Eastern Poland here.