You heard about Polish bisons and you want to see them in the National Park. But have no idea how to organize your trip there? Here are some basic tips about the touristic attractions in Białowieża – a village in the heart of Bialowieża National Park.
Go for a walk
If you are not a fan of hiking, you shouldn't bother with visiting Bialowieza at all. The national park is best to be explored on your own legs (or a bike). There are easy and well prepared trails around Białowieża like Żebra Żubra (the Ribs of a Polish Bison). But for the best sights you will have to go to the strict protection area within the national park. The last one you can enter only with a guide.
However, if you would like to spot a Polish bison, you don't have to go anywhere far. At least if you travel to Białowieża in autumn, winter or early spring. Then they love to feed on the meadows around the villages Budy and Teremiski. However in summer they usually spend their days deep in the forest.
Alright, let's go for a walk – but where?
If you need a specific destiny, try reaching some of the characteristic points in the Forest. It can be:
Żebra Żubra trail
It starts just outside of Białowieża and goes all the way up to the animal reserve (Rezerwat pokazowy żubra). This is where you can see Polish bison living in the captivity.
Dziedzinka forestry
One of the most iconic places in the national park. The forestry is in the bad shape, but it used to be a very colorful and incredible home for Simona Kossak. Simona was a famous biologist, focused on preserving the wildlife of Bialowieza. You can call her Polish Dr Dolittle. She managed to become friends with a wild boar, a raven (who was terrorizing the whole area) and a lynx. To get an idea, check our the photos by her husband Leszczek Wilczek.
Dziedzinka is a perfect destination for a three hours hike. Bring food and some drinks as there are no shops or stalls on your way there.
Visit the Royal Park
The park is over 100 years old and was designed during the Russian rule as a part of the palace complex. Unfortunately the palace itself burned down in 1944.
Animal tracking in Bialowieza
If you fail to find them by yourself, you can always hire a professional who will take you on a cool tracking trip. You can visit a strict preservation area in the National Park (can be only visited with a guide) or track wolves, bisons or deers around the Forest.
If you are looking for an English speaking guide it is good to travel with company, as the tracking trip can be quite expensive for a single traveller.
Winter sports in Bialowieza National Park
In winter time, Bialowieza is almost desserted, as that time of year tourists prefer to travel to destinations such as Zakopane or Cracow. However, if the weather is right you can spend your time in the Bialowieza Forest on sledge rides or cross country skiing. Read more about winter in Bialowieza in our previous post.
Kayaking on Narewka
A small river that goes through the National Park is Narewka. You can rent the equipment and go for a one day kayaking trip that starts in Bialowieza and ends in Narewka (village north from Bialowieza).
Best restaurants in Białowieża and around
If you cannot imagine travelling without fine dining, don't miss a visit in Stoczek 1929. The restaurant serves excellent duck as well as game.
And for more traditional and affordable meal go to Karczma Osocznika. It is located in a small village Budy. Don't miss their haluszki . You can eat them as a seperate meal or a side dish.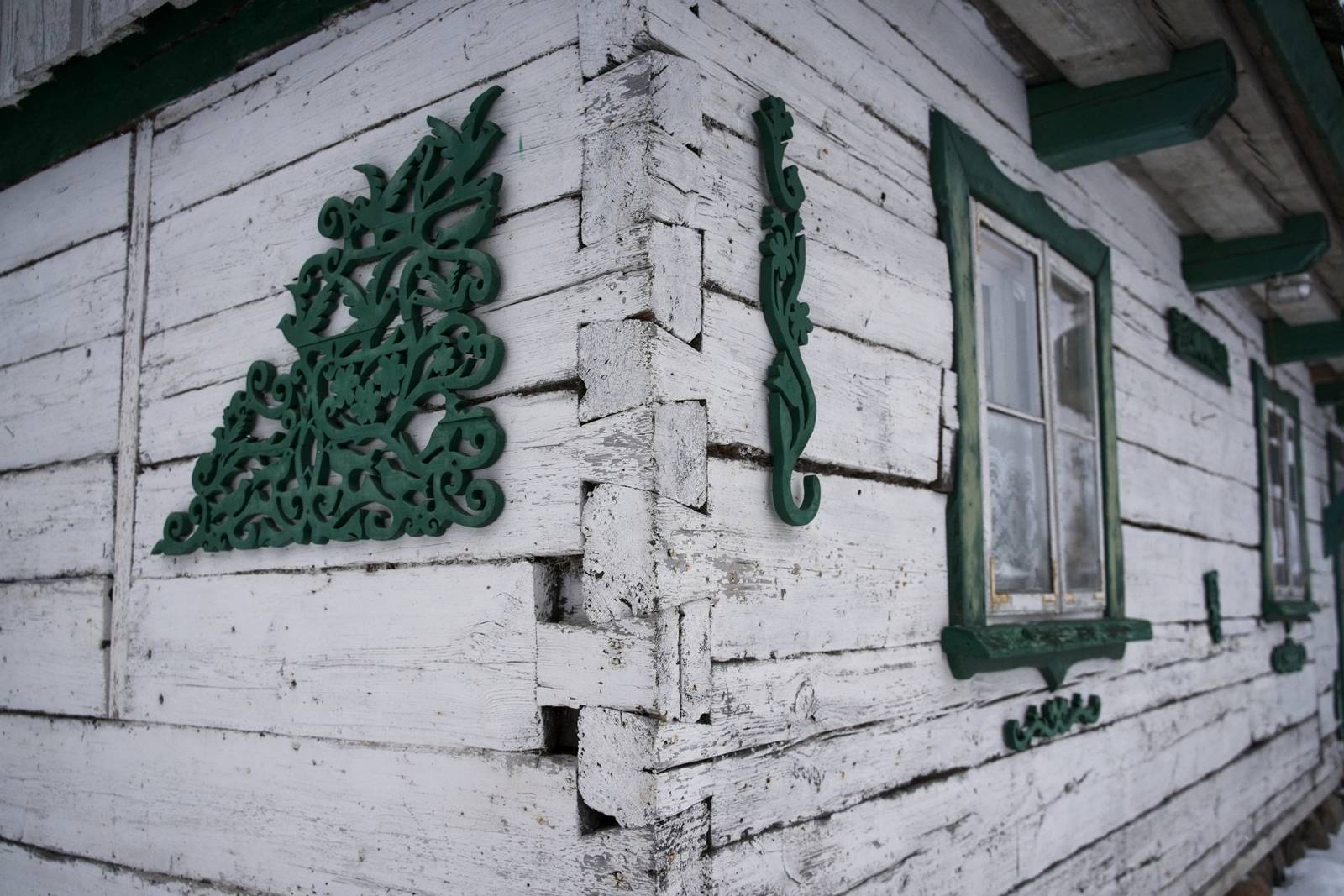 Accommodation in Białowieża – where to sleep
Białowieża is full of guesthouses and cabins in a full price range. Our favorite are:
Sioło Budy or Białowieskie Sioło
Every time we come to Białowieża National Park, we book our stay in a small village Budy – either in Sioło Budy or Białowieskie Sioło. These two places are right next to each other and used to be one. In our opinion, they are quite similar and are both outstanding locations with great hosts. Both places share a gigantic area and offer acccommodation in private rooms in ornamented wooden cabins, where dogs are also welcomed.
Białowieskie Sioło is also a host of a folk restaurant which serves very tasty local dishes. You cannot leave without trying hałuszki with sour cream!
This is a great choice if you are going for a fully relaxed stay and love long walks in the forest.
Private cabins in Białowieża
If you need more privacy or travel in a large group, check the offers to rent the whole cabins. Places like Morze Las or this beautiful house at the edge of town could be perfect for your stay.
And if your only condition for going to Białowieża is – give me fabulous food – stay at Stoczek 1929 You will find it right next door.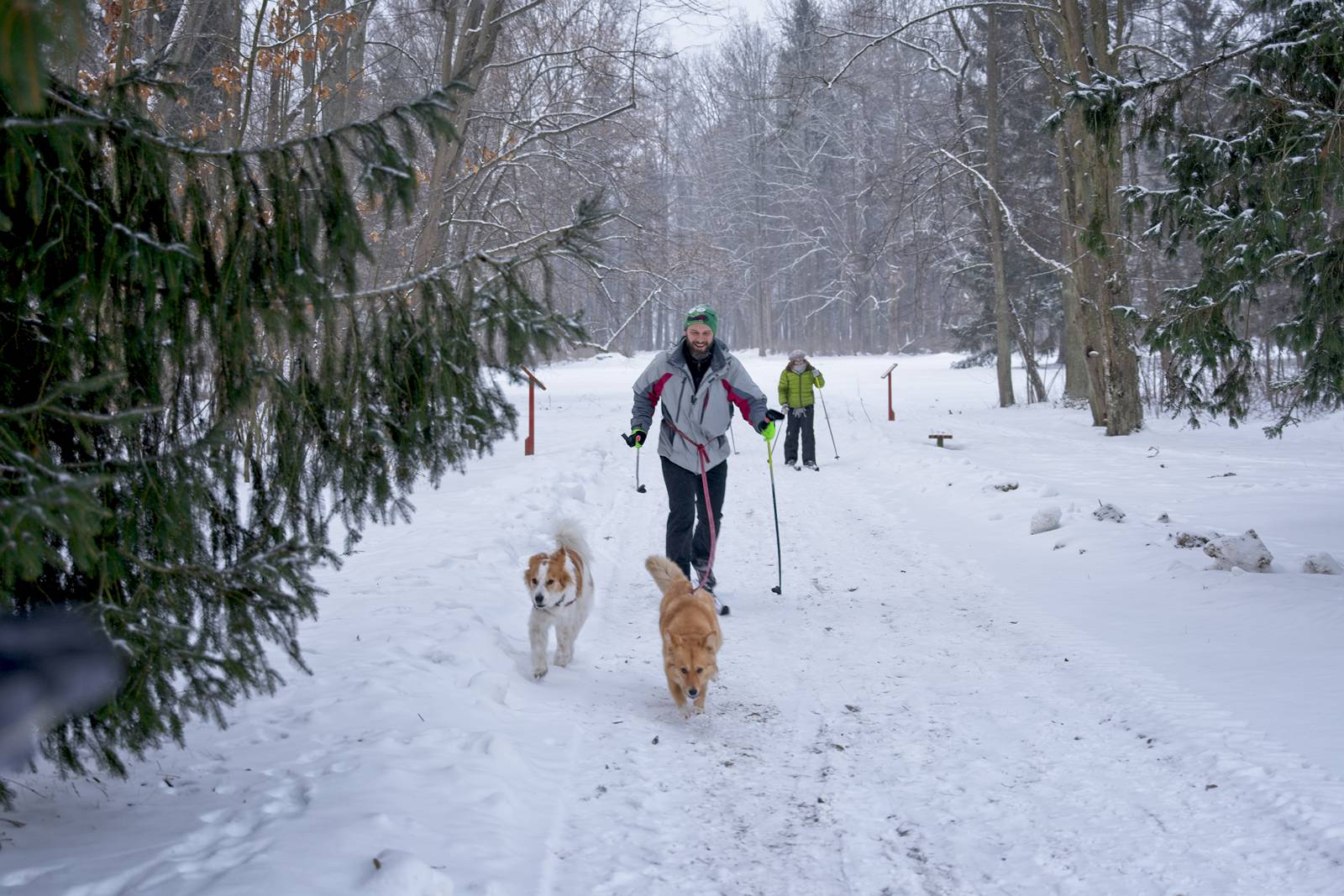 How to get to Białowieża
Białowieża is a village located at the border with Belarus.
By car to Białowieża
If you are traveling from Warsaw, you will get to Białowieża in3-4 hours. If weather conditions are poor, drive by S8 as far as possible (up to Białystok) and only then take a turn onto the secondary roads. Otherwise it might take forever.
By train to Białowieża
There is a train station in a closest town – Hajnówka. No direct trains from Warsaw, but if you don't mind transfering in Siedlce, you will get there in about 3 hours. Check the train schedules on PKP or read our post about booking train tickets.
Hajnówka is 20 km from Białowieża. You can ask your host to pick you up from the station or take a taxi.