Warning
: Undefined array key 4793 in
/home/sisens/domains/planpoland.com/public_html/wp-content/plugins/easy-table-of-contents/includes/class.post.php
on line
265
Warning
: Undefined array key 4793 in
/home/sisens/domains/planpoland.com/public_html/wp-content/plugins/easy-table-of-contents/includes/class.post.php
on line
269
Warsaw is surrounded by many awesome towns that are worth your visit. Check were to go for a one day trip around Warsaw.
You can also reach some of them by train or if you are not ready for a round trip by bike, simply come back with your bike by train. There is a train station in Nieporęt, Józefów, Otwock, Podkowa Leśna.
Podkowa Lesna
Podkowa Leśna is famous for its architecture. It was designed as a garden-town. It is green and you will find grand trees all around the town's center. Hence, todays price of land in Podkowa Leśna, which is High, to say the least.

How to get to Podkowa Leśna by bike
We have to admit that getting to Podkowa Leśna is not the easiest road around Warsaw. There is a bike path that starts in the city Center and will let you go almost outside of Warsaw (it goes along very loud and busy Aleje Jerozolimskie). Once it is gone, you have to be ready to bike along a pretty busy road (you can go, or even should, by the dirt roadside).
But don't worry. After a while you will be able to turn into small Bodycha street, which is much quietter than Aleje Jerozolimskie. You can follow that way till you reach Pruszków, where you again have to bike on the busier road.
Distance: 27 km from Rondo ONZ to Podkowa Leśna
What to see
On your way you can also check a small town Otrębusy, where you will find a bit cluttered Museum of Cars and a small park with old villa on Wiejska 1, which is now a post office.
Then follow Piaseckiego Street to get to Matecznik Mazowsze. Mazowsze is one of the oldest dance group in Poland (and it was pictured in a famous movie Cold War) and its headquarters are located in a beautiful park. Just right behind Matecznik, you will find even more charming, especially in the early autumn, Jeżynowa street. Follow it to get to Podkowa. Be careful as it is a forest road and it is almost always muddy.
Then follow points of interest that we marked on our map: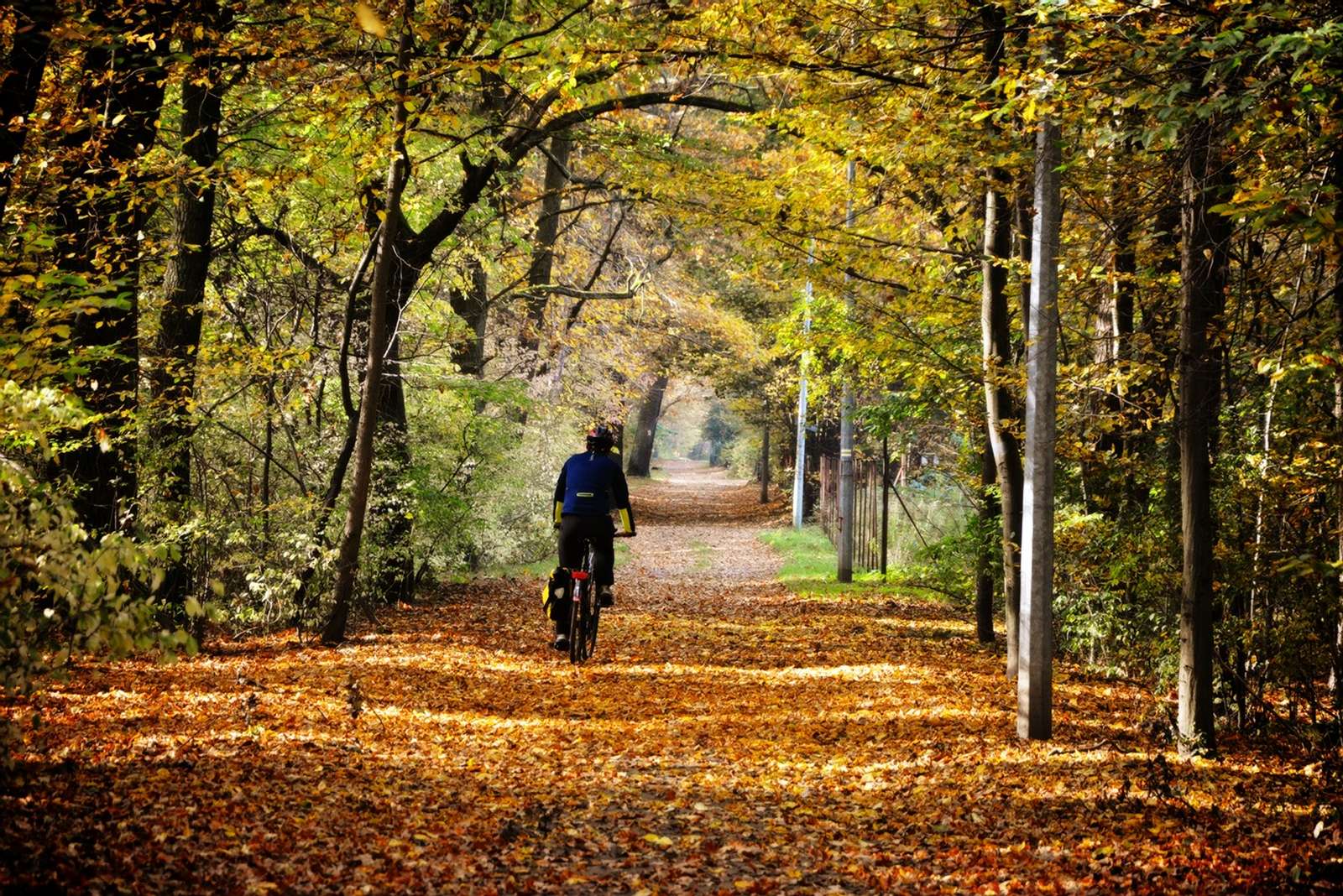 Jeżynowa street in Podkowa Leśna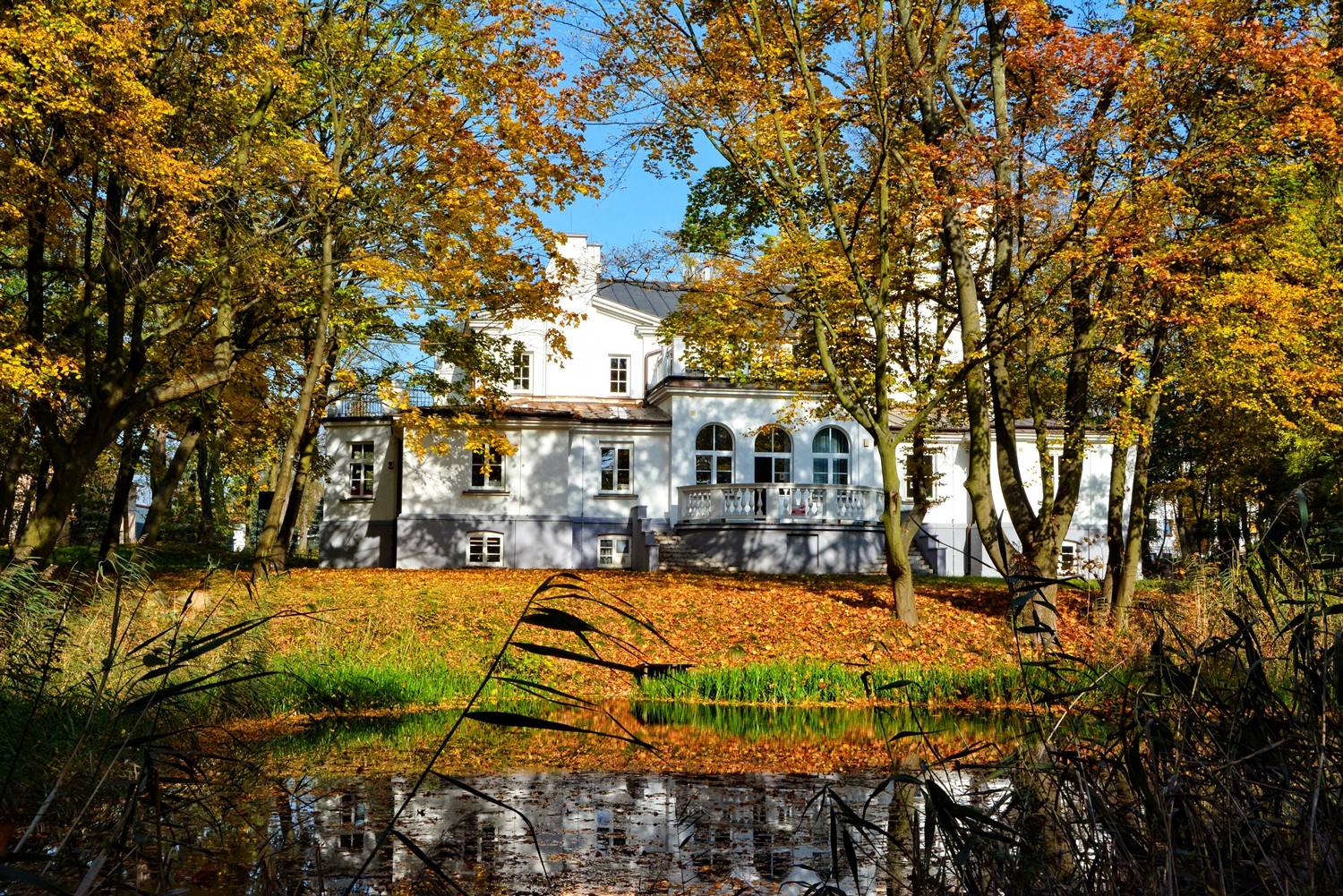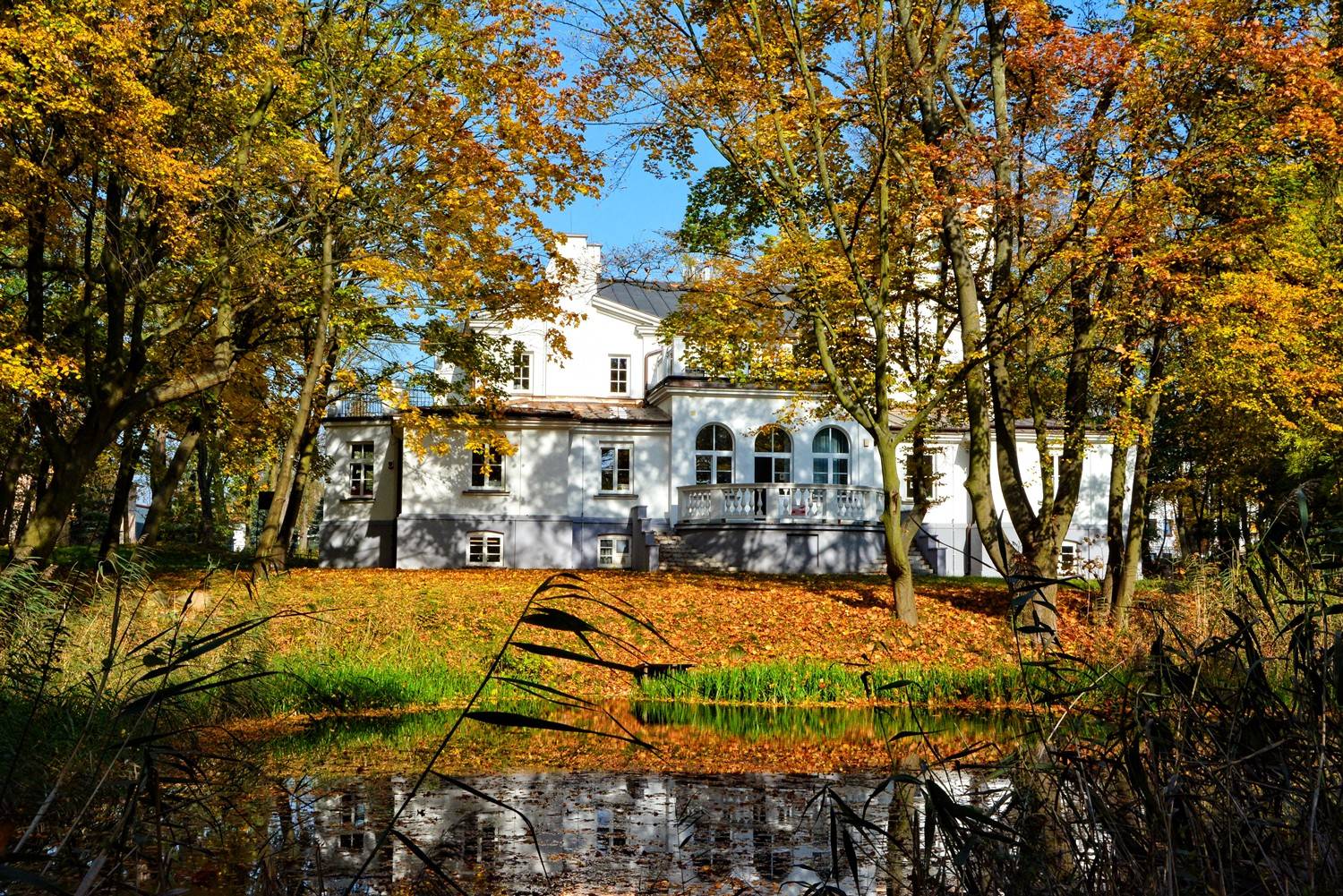 Zegrzynskie Lake
The biggest lake in the area. A must go for every fan of water sports. It is also well accessible by bike.
How to get to Zegrzyńskie lake by bike
Starting from Warsaw's city center, you can get to Nieporęt (one of the main towns at Zegrzyńskie) going by the bike path. Go along Wisła river  and cross Gdański Bridge. Then at Rondo Żaba turn left at the corner of the cementary and go around it toward Annopol Outlet.
From there you need to bike towards Żerański channel (Kanał Żerański). Biking by the dirt road along the channel, you will get straight to Nieporęt.
Distance: 28 km from Rondo ONZ to Nieporęt
What to do at Zegrzyńskie
If you are already in Nieporęt, decide what to do next. Nieporęt is one of the bussiest places around. This is where most of the people go to the beach. The streets are always full of cars and drivers looking around for a place to park (there is always none).
If you feel up to some longer trip, head toward Serock which is located at the very north of the lake. On the way there you should visit Jadwisin and Gorge of Szaniawski (Wąwóz Szaniawskiego). The nature there is beautiful and it is one of the most spectacular places around Warsaw.
At the end of the gorge you will find a great restaurant Klub Mila, which itself is worth the whole trip. Then you can bike or walk along the lake till you reach Serock. Other town, that is also worth your visit, is Jachranka.
You can also decide to go to the eastern side of the lake. The traffic there is smaller and you can still visit some restaurants and beaches on your way.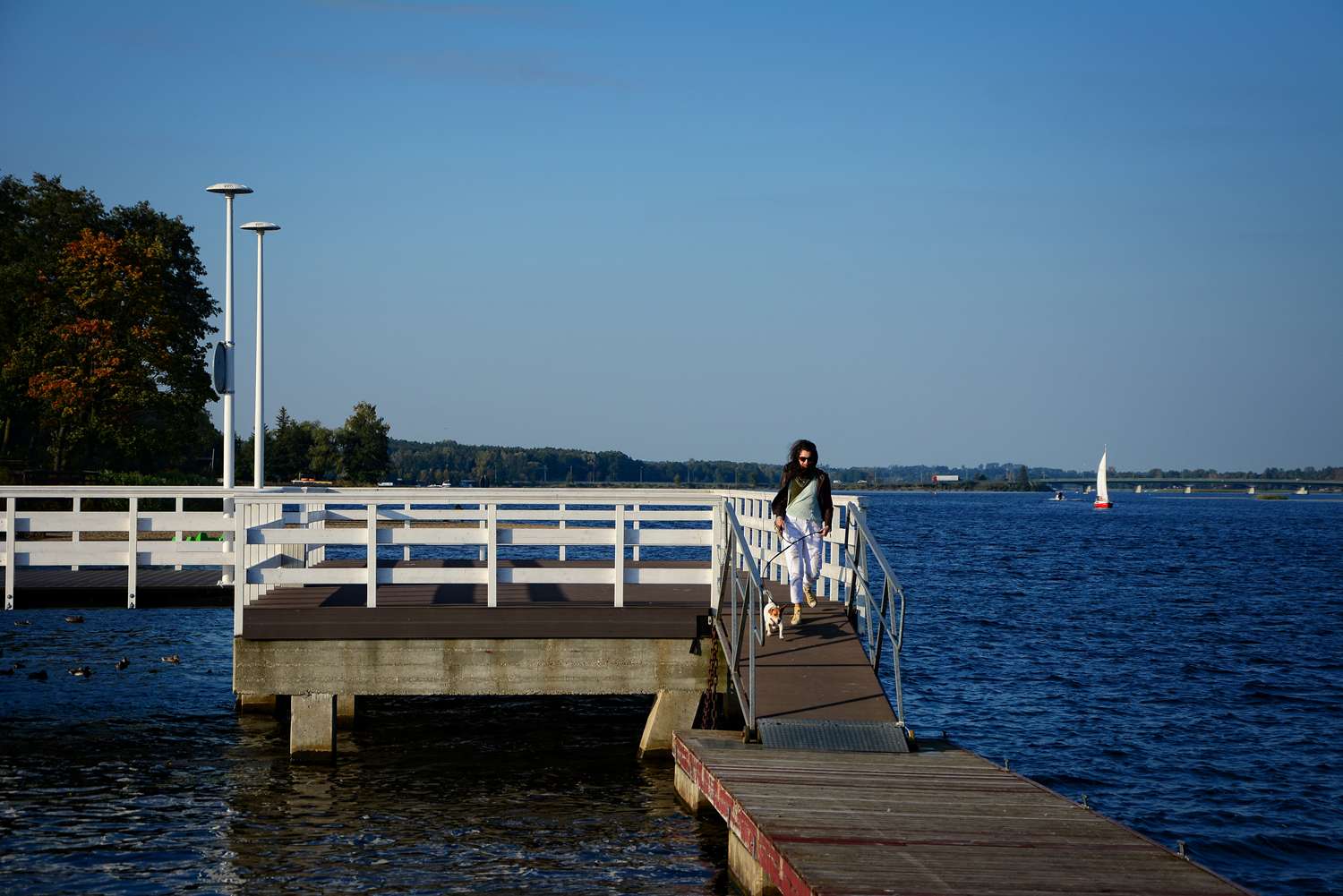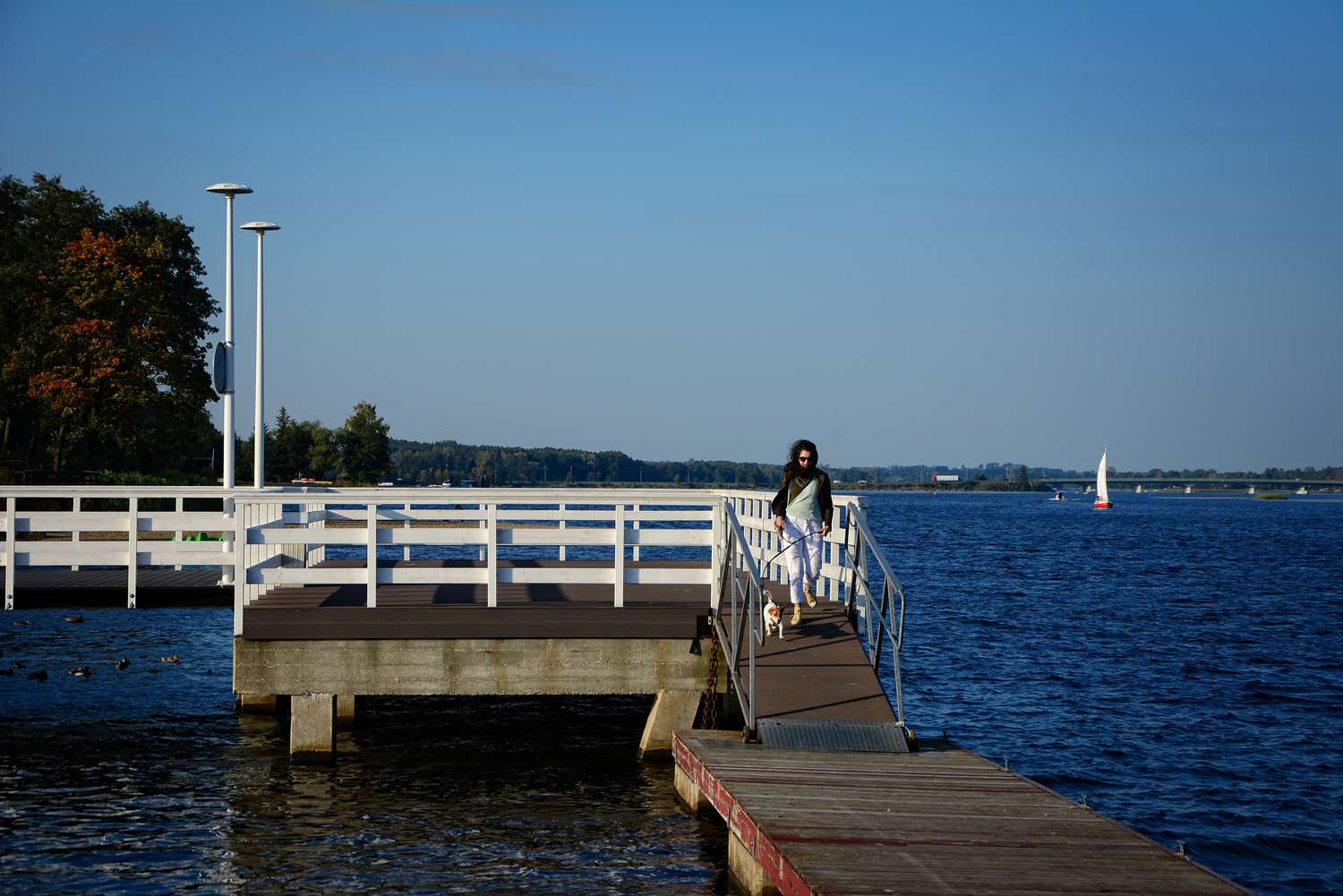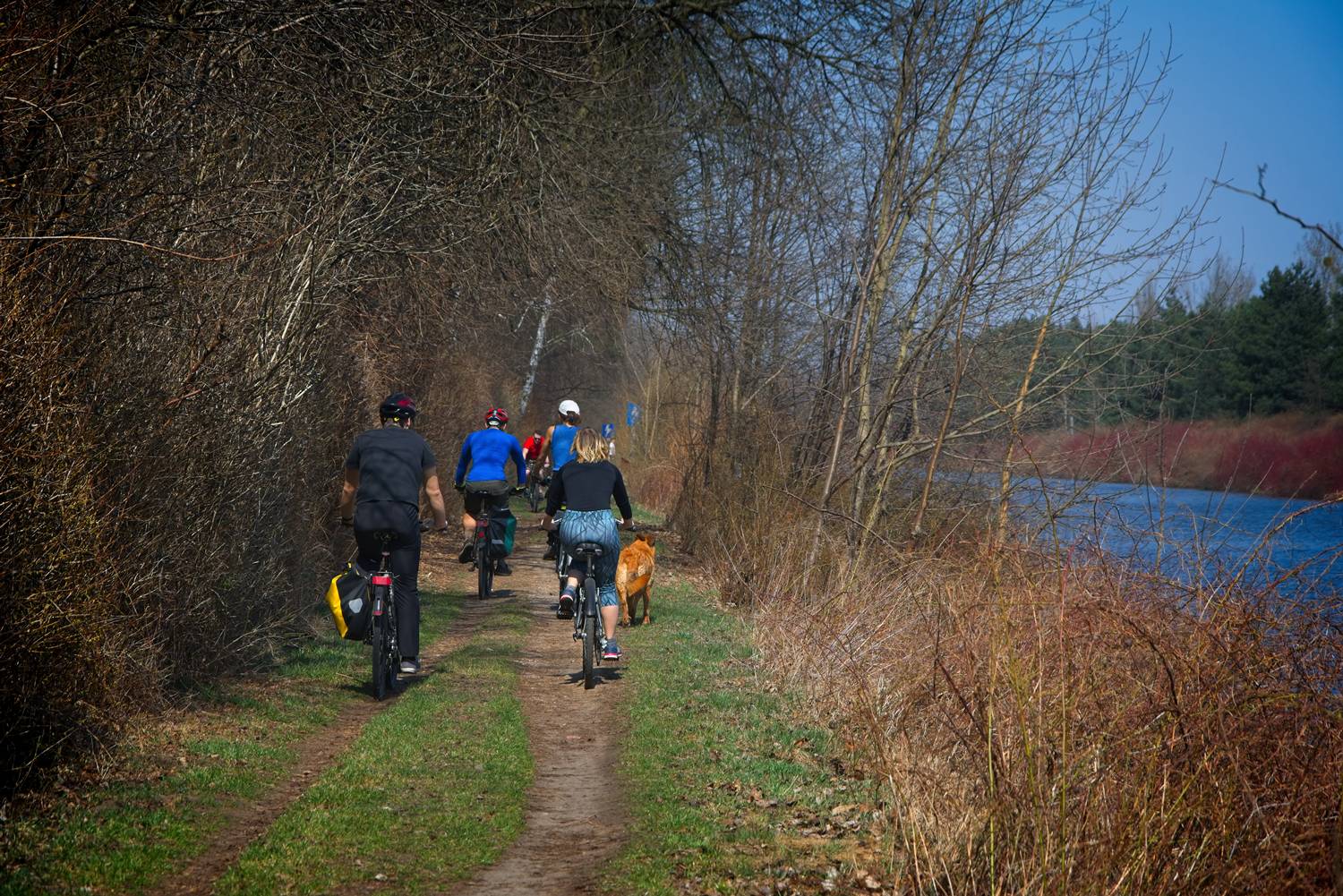 The bike path along the Żerań channel
Cross Vistula river on Gdansk Bridge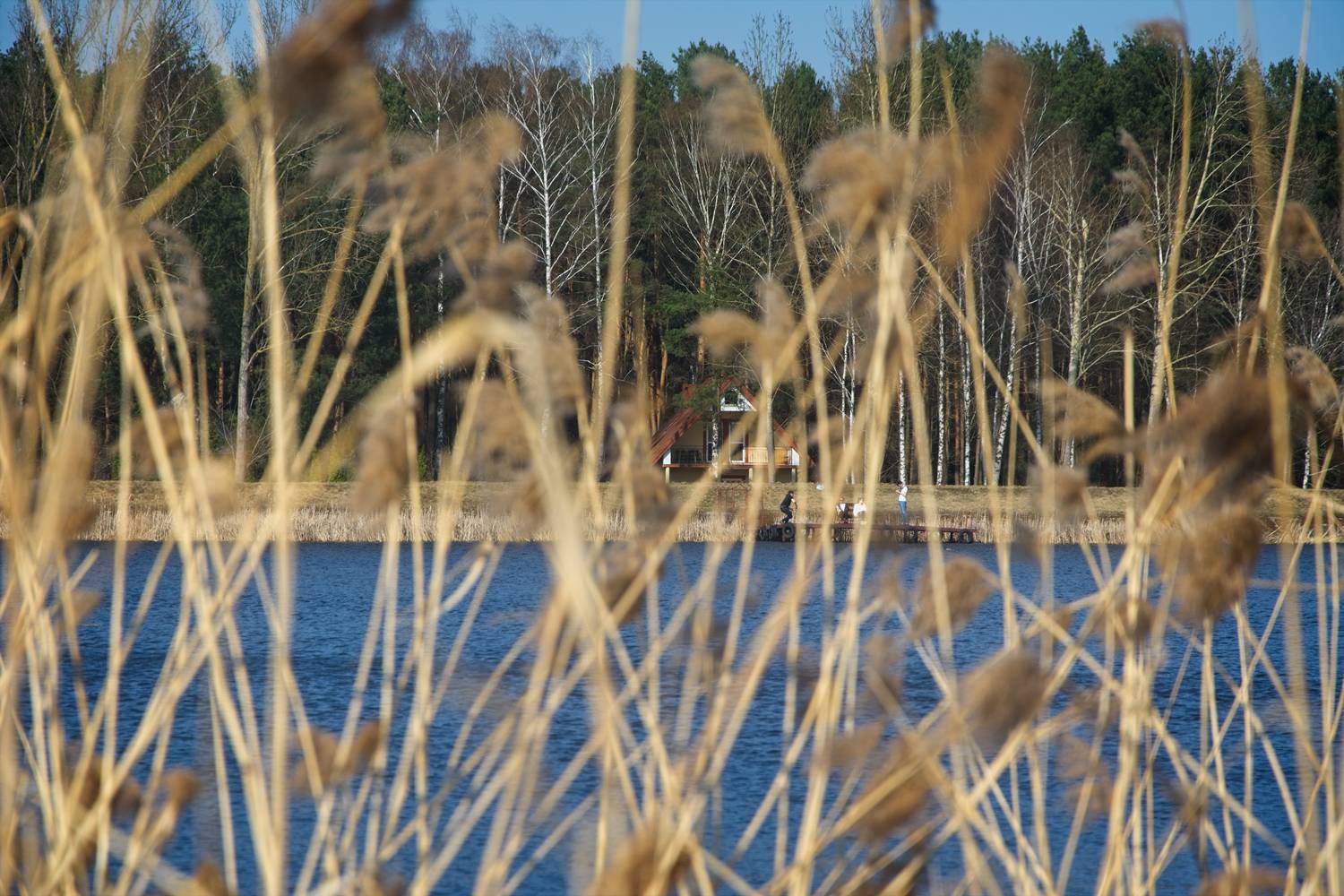 Otwock and Józefów
Otwock and Józefów were one of the first so called letniska around Warsaw. Letniska are towns where you are going for summer vacation. Full of pines and connected by one of the first railways with Warsaw, Józefów and Otwock were extremely popular destinations. If your grandparents had a summer house there, you considered yourself the luckiest child in the world.
How to get to Otwock and Józefów
Starting from the city center, you can ride along a bike path that goes from the city center, by the Siekierkowski bridge and goes along the right side of Wisła river until McDonalds near Romantyczna street. Then unfortunately, you have to bike by the busy road. You can also try to navigate yourself along the river banks which at this point are more to the west than the street.
Distance: 23 km from Rondo ONZ to Józefów
What to do there
You go there for wooden architecture. Nostalgic wooden houses, with light verandas and balconies can be found hidden among the pine forests of Józefów and Otwock (the styled is called swidermajer which is a word play between the word Biedermayer and Swider – local river). In Otwock you can see the biggest wooden building in Poland (under restoration) and in Józefów you will find a house of notorious Polish politician Janusz Korwin-Mikke which was build in swidermajer style.
You can also take a long ride in Mazowiecki Landscape Park, or simply eat a bomb full of calories at Sosenka pastry shop.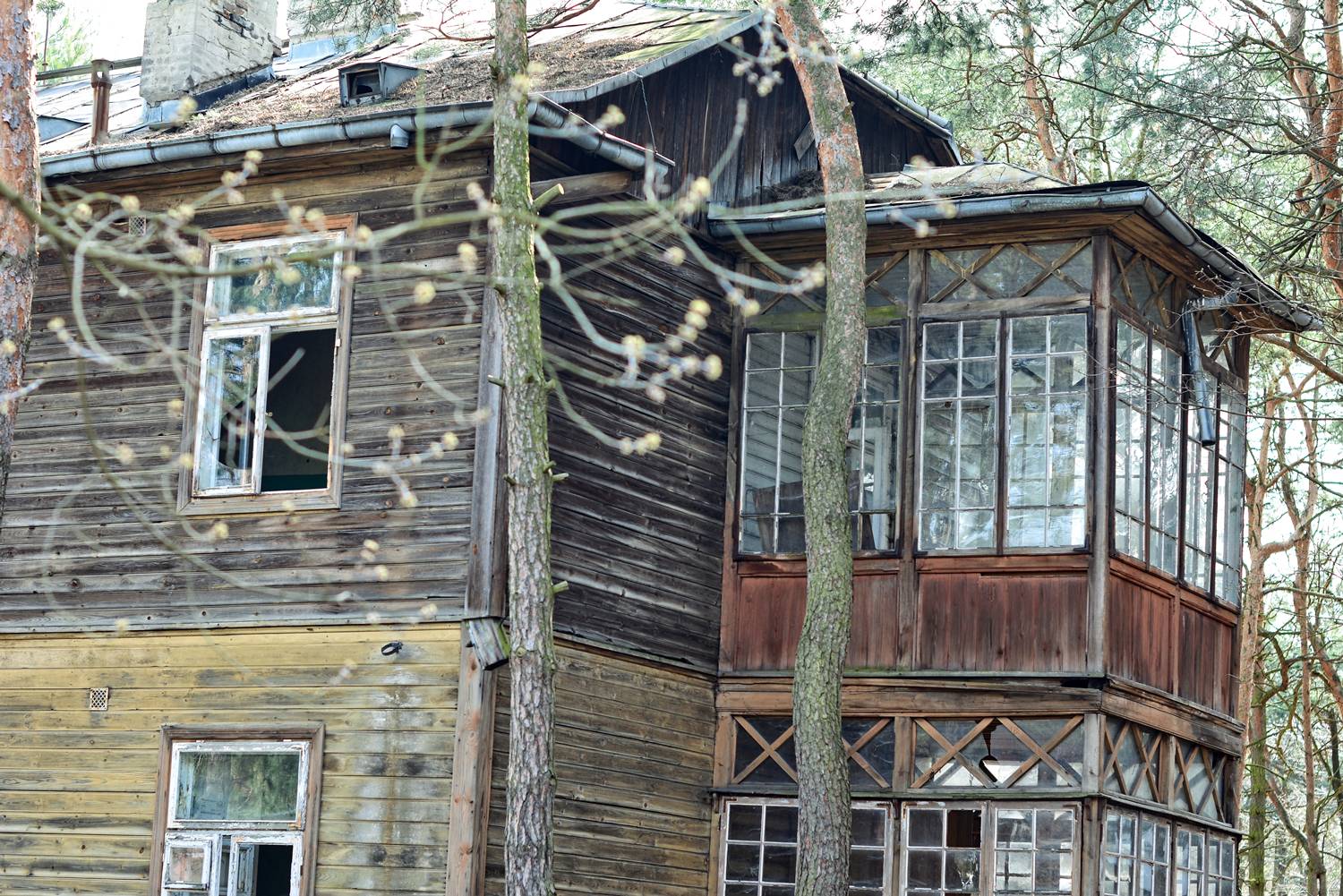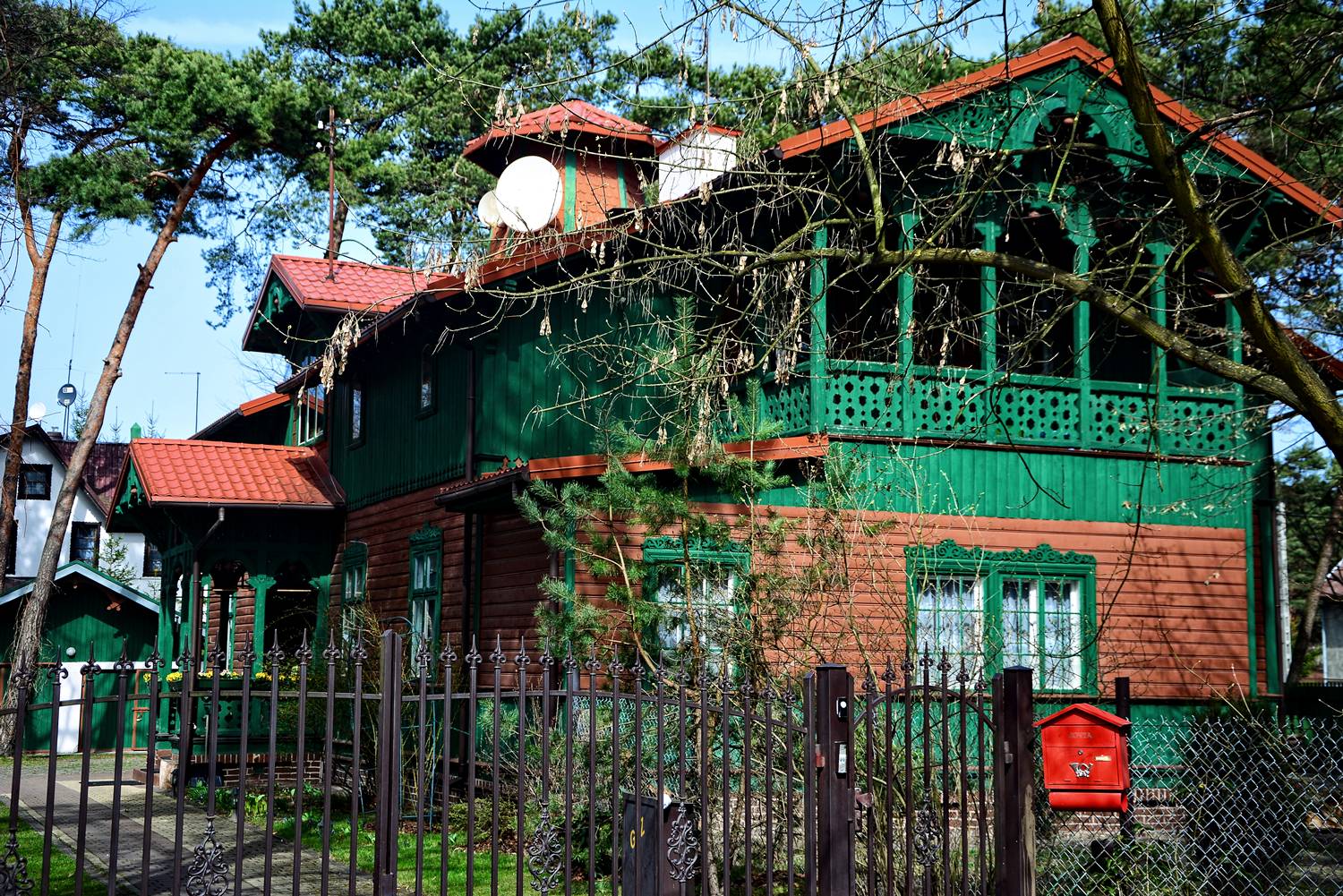 Kampinos National Park
The only national park in mazowieckie voievodship. The second nearest park is at least two hours drive from Warsaw. That only is enough to visit Kampinos, the place full of meadows, swamps and mooses.
How to get to Kampinos National Park
Getting from Warsaw to Kampinos by bike is a but exhausting, at least until you reach Izabelin. You will have to pass Bielany, which are crowded and unfortunately full of trucks, even though the roads there are secondary. You will even pass the signs with huge statements like: "Let Bielany breath!".
However, once you're outside of Warsaw, the road become really nice and is perfect for biking. Paths in the park are either dirt of asphalt.
If you plan to bike around the forest roads, it is better to go biking in spring and in autumn, when the roads are less dry. During hot summer days they tend to turn into pure sand. (EDIT: I guess nowadays they are just dry all the time 🙁 )
Distance: 22 km from Rondo ONZ to entrance to the park in Truskaw.
You can also go with metro to the last stop at Młociny, from where it is just 13 km to Truskaw entrance.
What to do in Kampinos
Take a ride around the park. And remember – it is huge. If you would like to bike all the way through it, you will end up 70 km from Warsaw. The part between Warsaw and road 579 is pretty easy, while if you decide to explore the western part of the park, prepare for steep hills.
If you need specific landmarks on your plan, you can add historical monuments to your itinerary. During the WWII Kampinos was still an undiscovered wilderness and this is were Polish gorillaz had their hideouts. And were their members met their destinies after inevitable capture. You can learn more about their dramatic histories in Palmiry Museum.
At the edge of Kampinos and Kampinos National Park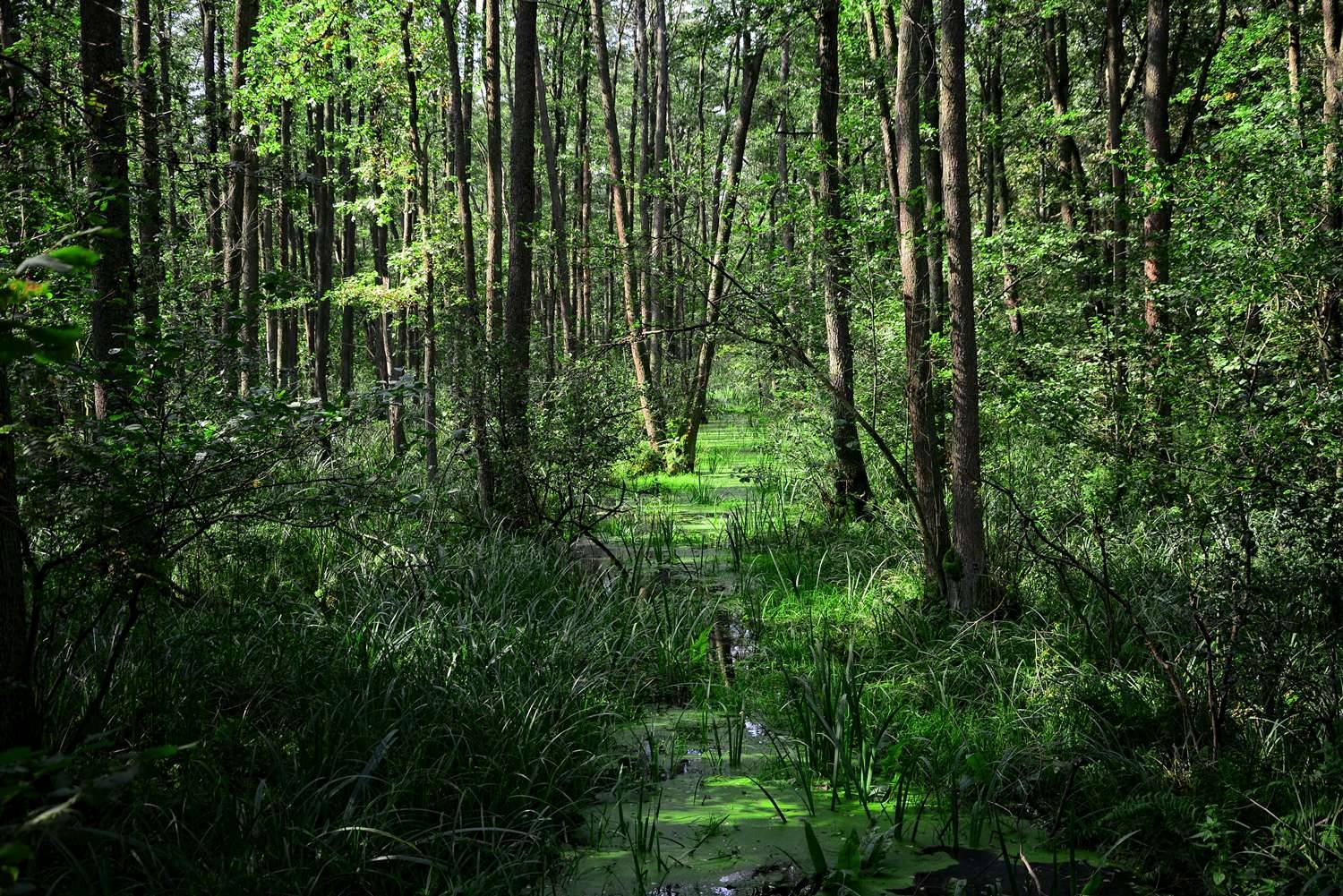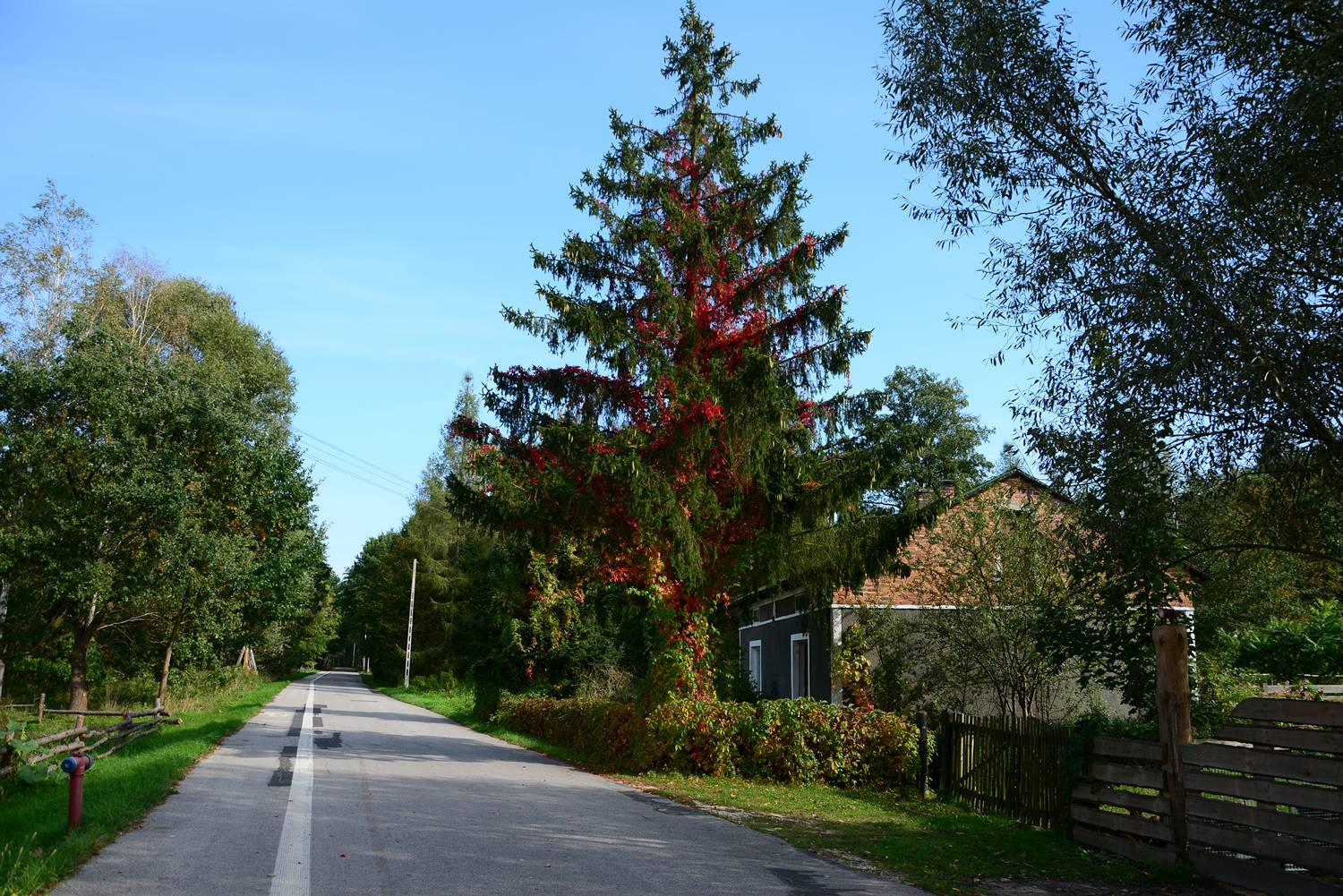 Bike path and the road that goes through the middle of the Kampinos National Park
Konstancin-Jeziorna
Roads around Konstancin Jeziorna are well known to pro and semiprofesional cyclist. They simply love to go around the quiet windy roads along Vistula river. You can be one of them.
Konstancin is one of the most luxurious place to live around Warsaw. And you can easily tell why. This little town is just full of old villas and palaces. Great architecture hidden between pine trees. But it is not all, as Konstancin is also a spa.
How to get to Konstancin by bike
To get to Konstancin you can either go along a bike path that starts in Wilanów or follow a quiet bike trail along Vistula river (which I prefer), and then make a turn and follow a public road till Konstancin.
Starting from Rondo ONZ you can follow the bike path almost all the way to Vistula bike path.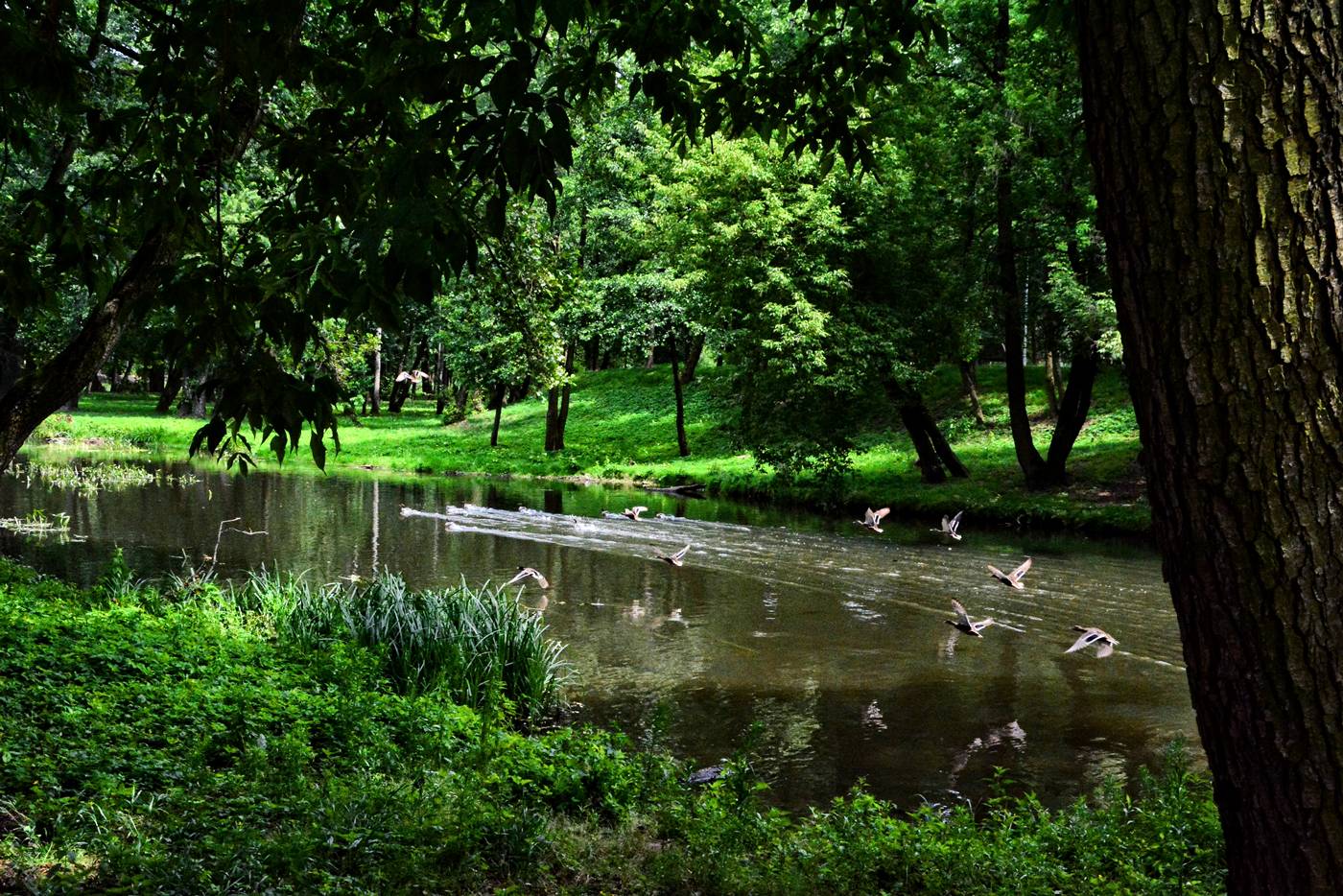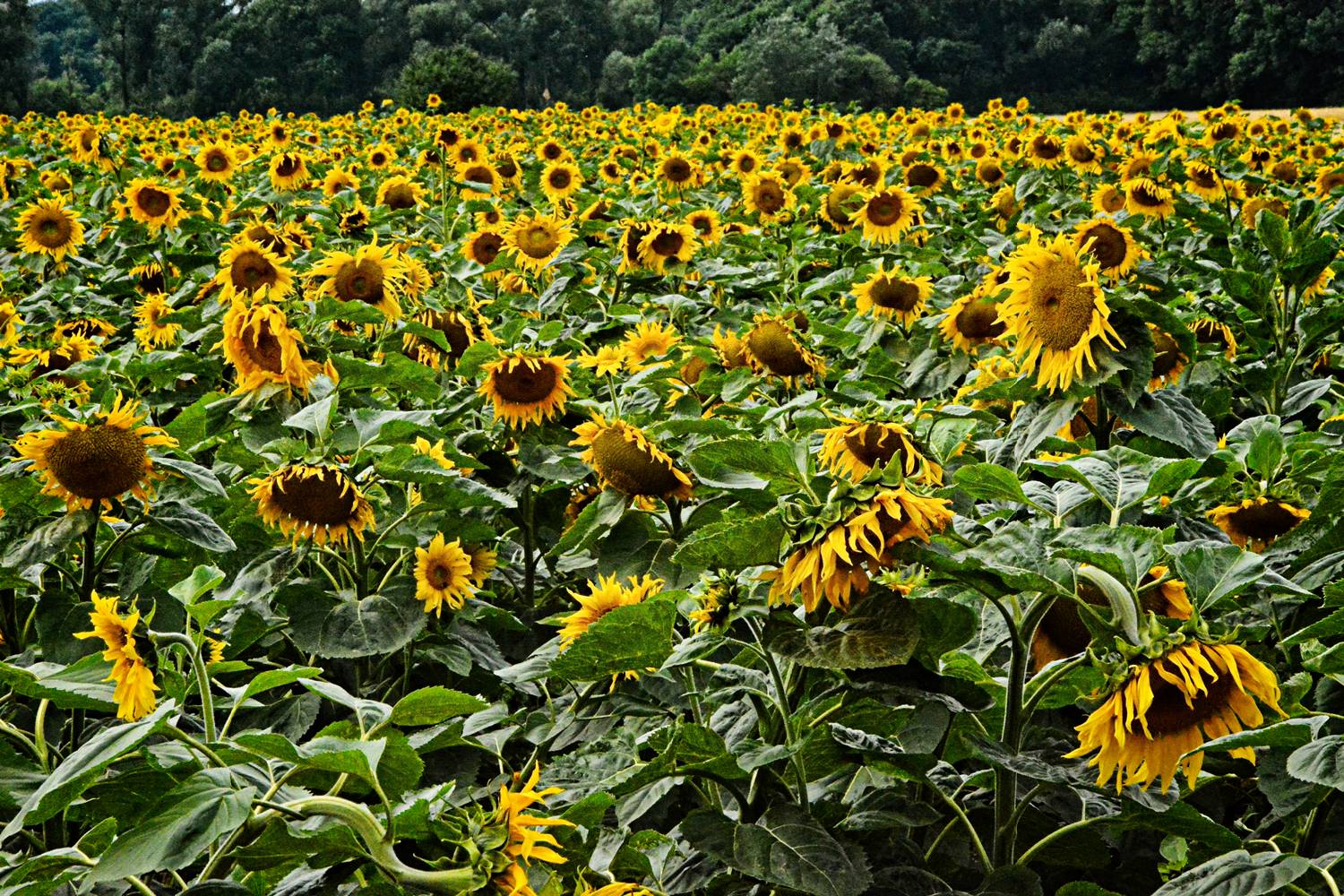 What to see in Konstancin
Ride around the streets and try not to open your mouth to wide where you are amazed by the beauty of this place. Start your visit in the park next to graduation tower and then follow Sienkiewicza street.
On your way there you can also pay a visit to the beach in Ciszyca.