Warning
: Undefined array key 4576 in
/home/sisens/domains/planpoland.com/public_html/wp-content/plugins/easy-table-of-contents/includes/class.post.php
on line
265
Warning
: Undefined array key 4576 in
/home/sisens/domains/planpoland.com/public_html/wp-content/plugins/easy-table-of-contents/includes/class.post.php
on line
269
If you are fed up with popular spots, discover Polish capital with our Warsaw off the beaten track recommendations. Certified by locals!
Active Warsaw
First things first! We like moving so we cannot miss the opportunity to recommend you some of our favorite places in Warsaw where energy is a must have.
Hangar 646
If you are an energy driven, never stopping touris that never miss a chance to get really sweaty, you should visit a trampoline park Hangar 646. Founded by the gymnasts brothers, it is one of the most popular recreational spots in Warsaw. Just be careful, as those huge trampolines have power to send you to the Moon!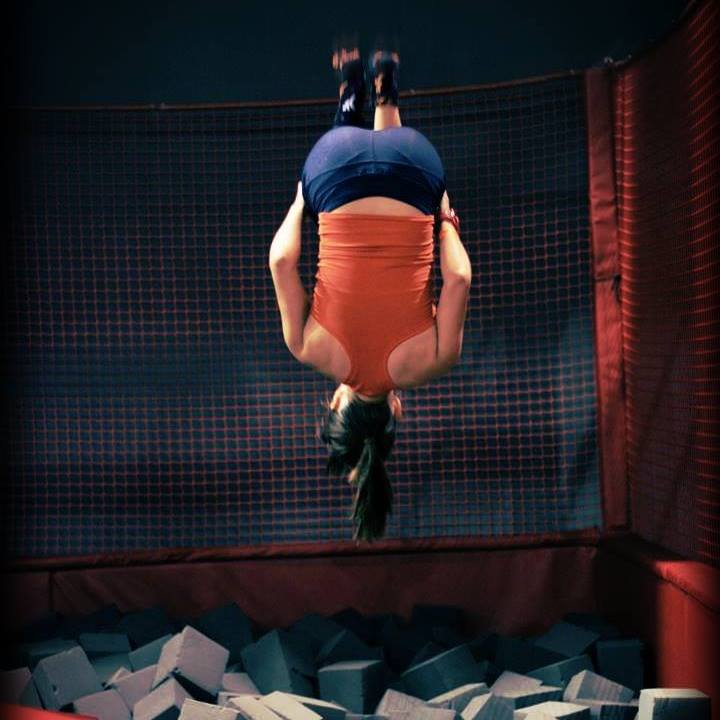 Cross country skiing in Warsaw
Our favorite activity during that short period of real, snowy winter in Warsaw, is cross country sking. Polish capital is surrounded by vast parks and forest, which can be discovered by bike in summer and on skis in winter.
The closest to city center are rentals at Powsin recreational park or for example in Bielany and Kabaty. And of course they are operating if there is enough snow, so standby!
More ways to get sweaty in Warsaw? Check our post about sports you should try or see while in Poland.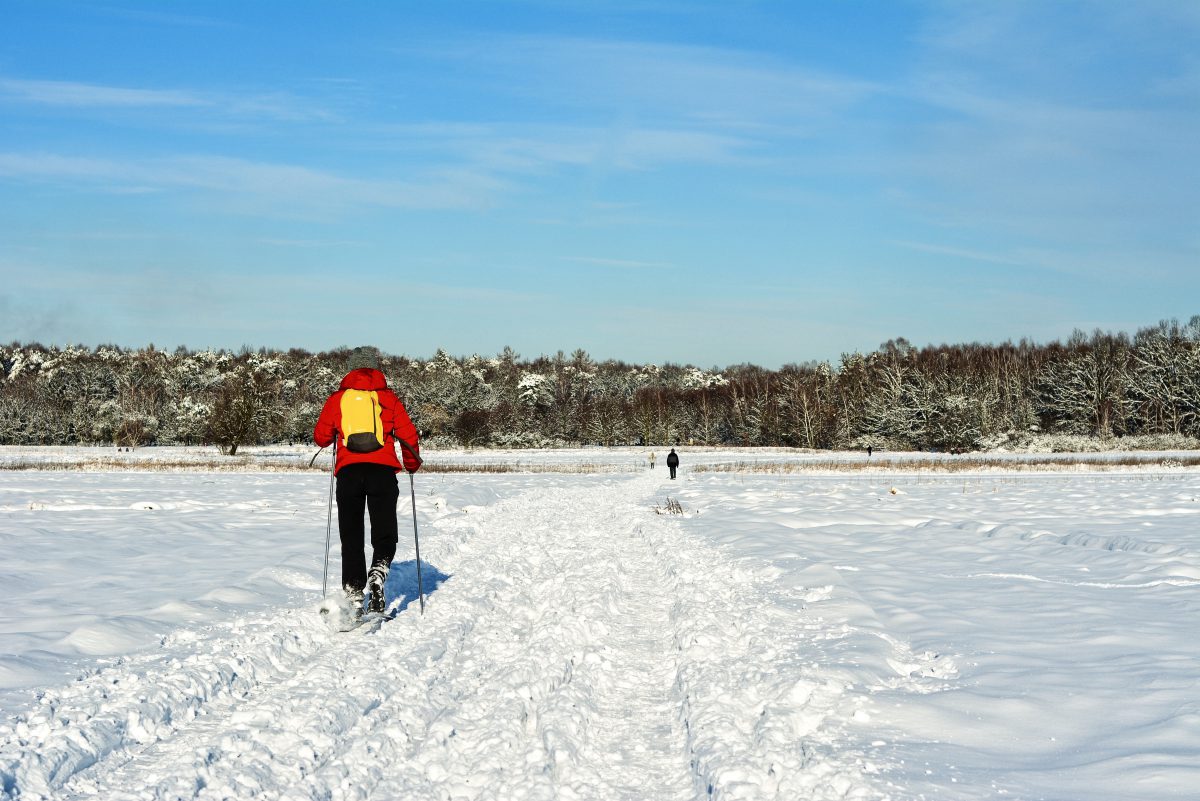 Hanging around
If you are looking for a place where you can just lay in a hummock with a lemonade in you hand (or a beer), here's our favorite picks.
Królikarnia
For many this park is a regular hanging spot. Very quiet and almost deserted during the day, offers superb view at the classicist palace. There is a free sunbed rental and a small cafe. You can also take a long walk around the palace which is surrounded by Arkadia park – a nature reserve.
You can also go there with your boule set, as it is a regular hanging spot for boule players.
River banks
We remember the times when left side of the river was just for fisherman and teenagers who wanted to drink in the wild. Last years the place had been turned into to family and also party friendly most visited spot in Warsaw. Once the sun is out there, dining and wining center of the city relocate near Swietokrzyski and Poniatowski bridge.
The whole area is full of people and being there is definetely how the locals do it.
And if you are looking for something in a "chill" mood, check Boogaloo which is located more north than the main party hub, just right next to the Olympic Center. There is less people there and it's nest to a forest, which makes it a perfect quartet: reggae, river, forest and the beach. It is pretty much the best place in Warsaw to feel like on vacation without going anywhere.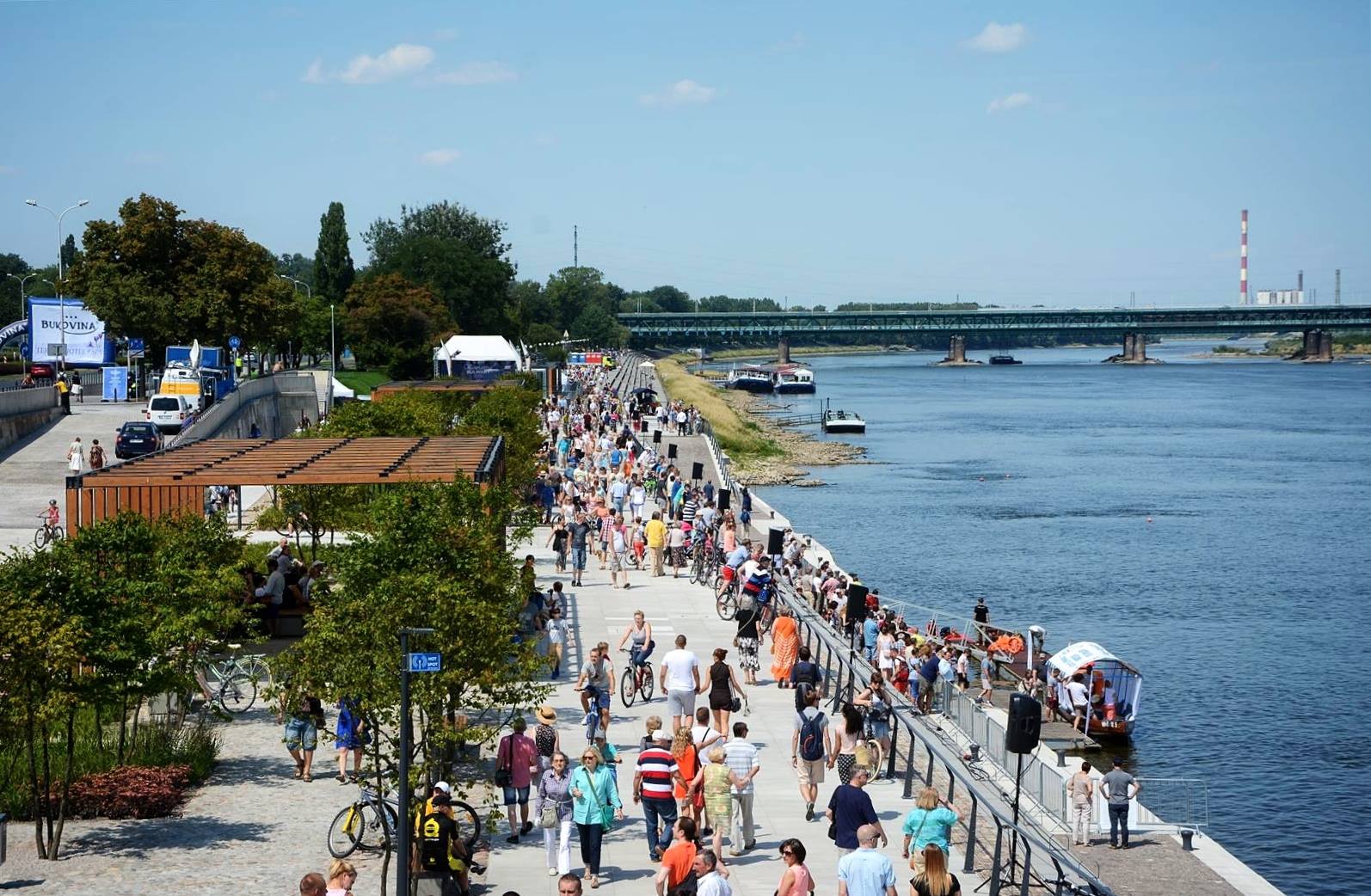 Discover Warsaw off the beaten track
Jazdów
We wish there was more places like this in Warsaw. Or anywhere. A trip to Jazdów is like time traveling. Or just traveling, cause this is a real village in the very center of Warsaw.
For the tranquil character of Jazdów we should really thank… Finish people. In 1945 Finland gave Poland 400 timber houses, which was a part of a war reparations deal. Finish houses were supposed to help in housing crisis in Warsaw and to be removed after 5 years. But they are here to this day.
There are numerous free events that take place in Jazdow, mostly organized by "Open Jazdów" group.
Ujazdowski Palace and Center of Modern Art
Just a rock throw from Jazdow you will find Center of Modern Art in Ujazdowski palace. Visit it for its laid back atmosphere. There are many artistic events going on there (website). You can also just lay in a hummock and drink cold lemonade.
Czerniakowskie Lake
Looking for a place to jump into the water? There are plenty open swimming pools and actual lakes around and even inside Warsaw.
One of the most vintage places is lake Czerniakowskie, which since forever was providing summer refreshment to Varsovians.
It is located in a quiet neighborhood and surrounded by natural reserve. Chill there, take a swim or rent a boat.
Dining and drinking off the beaten track
Below you will find our off the beaten track recommendation for a night out.  And if you are looking for a place to try Polish cuisine we recommend: Pikanteria (perfect pierogi and zurek), Folk Gospoda (great venision).
If you would like to see how Polish restaurants looked like in the 80s, check Lotos.  Since communism almost nothing changed there and the food is quite tasty. You can meet there a very mixed crowd: lawyers and drunkards. I guess they both have a thing for a good tatar and vodka.
The list of our favorite restaurants you find in the previous post.
Ząbkowska
From what we hear on the local expats groups, there are plenty of foreigners who are still afraid to cross the river to have some fun. That is a huge negligence!
What used to be the most dangerous part of Warsaw, since 2005 gradually has been turning into main nightlife zone. First the artist and then the whole city started exploring alternative clubs and pubs, like Sen Pszczoły (Bee's Dream) or W Oparach Absurdu located in Praga district.
Today you should not be afraid to wander to the pubs and restaurants at Zabkowska Street, which become the party center of the whole area. On August weekends it even turns into a pedestrian only zone.
Pawilony
This place is not for … everybody. Entering Pawilony is like jumping through a  rabbit hole. Located at the back of Nowy Świat, they provide a needed relieve from a glamour of the touristy street. 30 tiny pubs located on 2000 square meters handle all the hassle and bustle there can be.
We still remember the times when nobody ask there how old are you as long as you had your 1 euro for a glass of beer. But every year, for good or worse, it is getting more and more civilized. You will not get more local than this!
Night market in Warsaw
Even though it is not Asia, Poland got its own night market. And it is pretty great. Dozens of food stalls and music is all that a hungry Varsovian needs.
Night market is located on the old train station (so called Main Railway Station – not to be mistaken with Central Railway Station) and is a regular event during summer season.