Warning
: Undefined array key 3707 in
/home/sisens/domains/planpoland.com/public_html/wp-content/plugins/easy-table-of-contents/includes/class.post.php
on line
265
Warning
: Undefined array key 3707 in
/home/sisens/domains/planpoland.com/public_html/wp-content/plugins/easy-table-of-contents/includes/class.post.php
on line
269
Maybe you already toyed with the idea of coming to Poland, but don't know what to see and which places to visit? Below you can read about exceptional Polish nature, including some of the polish national parks,  that in our opinion, are most definitely worthy of your time.
Check our map where we marked the most popular places, which should be considered as your travel destination. We divided Polish touristic attractions into categories: Poland's national and landscape parks, castles, main cities, small yet worth seeing towns, festivals and places perfect for bikers. The list is not definite, as there are many more point of interest worth your time.
Polish national parks
In our humble opinion coming to Poland should always involve at least one visit to any national or landscape park. Polish nature is absolutely stunning and thanks too very small impact of industry, in many cases it seems absolutely intact by a human. Eastern Poland is a place where you will find one of the wildest forests and mountains in Europe. But there is so much more to see. And since we are afraid you might have never even heard before about these places, below we present you our favorite national parks and the reasons why we keep coming back there.

Wigierski National Park
Even though some consider this part of Poland to be the coldest one, it is also one of the country's most beautiful regions. Crystal clear waters of lakes (Wigry) and rivers (Czarna Hańcza) are just outstanding for kayaking. It is a perfect destination for family holidays or a trip with friends.
When to visit: Late spring and summer are the best moments to try some water sports.
The closest big city: Białystok
Karkonosze National Park
There was a time in our life when we were coming back to Karkonosze every year. Even though the mountains there are not the highest, something in the atmosphere of these lands make you wanna come back. The mix of Czech, Polish, Silesian and German culture is a recipe for a perfect holiday destination. We especially recommend hiking to at least one of the refuges in the mountains, for example Samotnia.
When to visit: it is perfect any time of the year, however if you are planning some recreational trekking, we recommend coming between late spring (when the snow is already gone) to early autumn.
Closest big city: Wrocław, Jelenia Góra
Bieszczady National Park
Bieszczady is a name of the Polish region in Carpathian mountains. It is located in a remote part of the country. Which is why Polish people might sometimes use "Bieszczady" as a synonim of the end of the world. The kingdom of bears, Polish bisons and wolves. And of course the magnet for all the misfits of this world. The land which remembers simpler times, without deadlines and KPIs. This is why Polish saying goes like this: "One day I will leave it all behind and move to Bieszczady". Every year more and more people visit Bieszczady, so it is worth to go there and stand face to face with its wilderness. Go there before it becomes another loud touristic location.
When to visit: If you are looking for a total desolation, come outside of the touristic season. The biggest crowds of tourists should be expected during summer months and long weekends (especially 1-3 May, 15 of August and the movable feast of Corpus Christi – usually in the end of May or in June).
The closest big city: Rzeszów
Biebrza National Park
Biebrzański National Park is probably still more frequently visited by foreigners than Polish tourists. Here, it is just as likely to meet people from the Netherlands as tourists from Warsaw. People from all over Europe come here every year to… watch birds. Thousands of them (birds, not Dutches :)) meet here in spring, when the water floods the entire Park.
Beside birds, you can try to take a photo of deers and elks that live in the local forests and swamps. This is a true animal kingdom. It is also a perfect destination to disconnect from your every day life, leave your cell phone deep in the drawer and just relax.
When to visit: spring and autumn are the perfect moments. In summer it is a little bit harder to get by with a great amount of mosquitoes that may disturb your afternoons.
The closest big city: Białystok
Bory Tucholskie National Park
This is a perfect place for a biking trip. Safe trails that cut through the beautiful forests of Tuchola are considered to be the best in Poland. Be sure not to miss crystal clear lakes and rivers hidden in the heart of this old forest. And if you are already here you should consider expanding your trip to Wdzydze Landscape Park (Wdzydzki Park Krajobrazowy).
Note: Due to the 2017 hurricane a part of the national park's forests was destroyed by wind.
When to visit: late spring and summer is the best moment to appreciate not only the forests but to also lakes, which are perfect for summer  swim.
The closest big city: Bydgoszcz and Gdańsk
 Białowieski National Park
This is one of the very few forests in Europe that can be described as last untouched wilderness. It is also a kingdom of Polish bison. And you don't have to be a forester to meet it.
If you are there, check Bison Breeding Center and keep a lot of free time for your walk through the paths of the real Forest. For us, an absolute highlight of the region is wooden architecture. Look around and you will find here fairytale blue churches and colorful, beautifully ornamented folk houses which are more than 100 years old.
If you get there don't sleep in the standard hotel, but rather book a wooden hut!

When to visit: Due to its extreme uniqueness of the nature, Białowieski National park can be visited any time of the year.
The closest big city: Białystok
Park Narodowy Gór Stołowych
National Park of Table Mountains – doesn't it sound intriguing?
This land is full of surprises and great points of interest. There are caves to be discover (Jaskinia Niedźwiedzia), fairy tale rock formations (Błędne Skały and Szczeliniec) and even a unique skull chapel in Kudowa. And if you are in the neighborhood you should definitely also visit Góry Sowie (Mountains of the Owls) which hide the secrets of underground city built during WWII on Hitler's order. Yes, Lower Silesia is probably the best choice for the first visit in Poland.
When to visit: Summer, spring and early autumn
Closest big city: Wrocław

Polish landscape parks
Yes, we have some great national parks in Poland. But their younger brothers – landscape parks – can put a real good fight as well. So please, don't be a fool and add them to your holiday itinerary.
Wdzydzki Park Krajobrazowy
Wdzydze Landscape Park is just a stone throw away from Bory Tucholskie National Park and Kaszuby Landscape Park. This is why we highly recommend visiting them all during one visit. Wdzydze, with its huge lake called Kashubian Sea, is a lakeside paradise. Water here is crystal clear and seems like it's inviting all the visitors to take a swim. Don't take a raincheck!
Fans of sailing and kayaking should not be disappointed as some of the smoothest rivers of northern Poland are located up here – Brda and Wda. They are accessible even for the total kayak novice.
When to visit: Summer, late spring
Closest big city: Gdańsk and Bydgoszcz
Brodnicki Park Krajobrazowy

Brodnicki Landscape Park takes its name from a small town Brodnica. It used to be one of the most important Teutonic fortresses, which kept safe one of the entrances to their lands – which was a fort on river Drwęca. The region is full of medieval monuments. On top of that, it is an amazing but yet not overcrowded lakeside. If you are looking a remote location with lakes and forests around you, that's a place to be.
When to visit: Late spring, summer and early autumn
Closest big city: Toruń, Bydgoszcz
Park Krajobrazowy Orlich Gniazd
It is a must see for all the backpackers in Poland. Orle Gniazda means "Eagle's nests" and refers to the system of medieval castles built during the reign of Casimir the Great to protect the border of Poland. There are all connected by over 160 km long hiking trail.
There are 11 castles and palaces on a trail. Take it and you will have a chance to visit one of the most outstanding examples of medieval military architecture in this part of Europe, such as Ogrodzieniec.
When to visit: If you are interested mostly in visiting the castles, you can come any time of a year. For perfect conditions visit from spring to early autumn.
Closest big cities: Kraków, Katowice, Częstochowa
Mazury – Mazurski Park Krajobrazowy
The biggest system of lakes in Poland and one of the biggest in Europe. The land of thousand islands.
It is a place known to every single sailor in the country. Quite crowded and overpriced during the summer season, which is why it is better to visit it in spring. This area was also a heart of State of the Teutonic Order so if you are not a fan of water sports, you will still find here many interesting places to visit. Beside castles in Barcin, Giżycko, Kętrzyn, Nidzica, Ryn, Ełk, Węgorzewo and Działdowo, you can also visit Wilczy Szaniec – the Wolf's Lair – Hitler's headquarter from Second World War.
When to visit: summer and spring, and if you are looking for even less crowds – in autumn
Closest big city: Olsztyn, Białystok, Warszawa
Hel – Nadmorski Park Krajobrazowy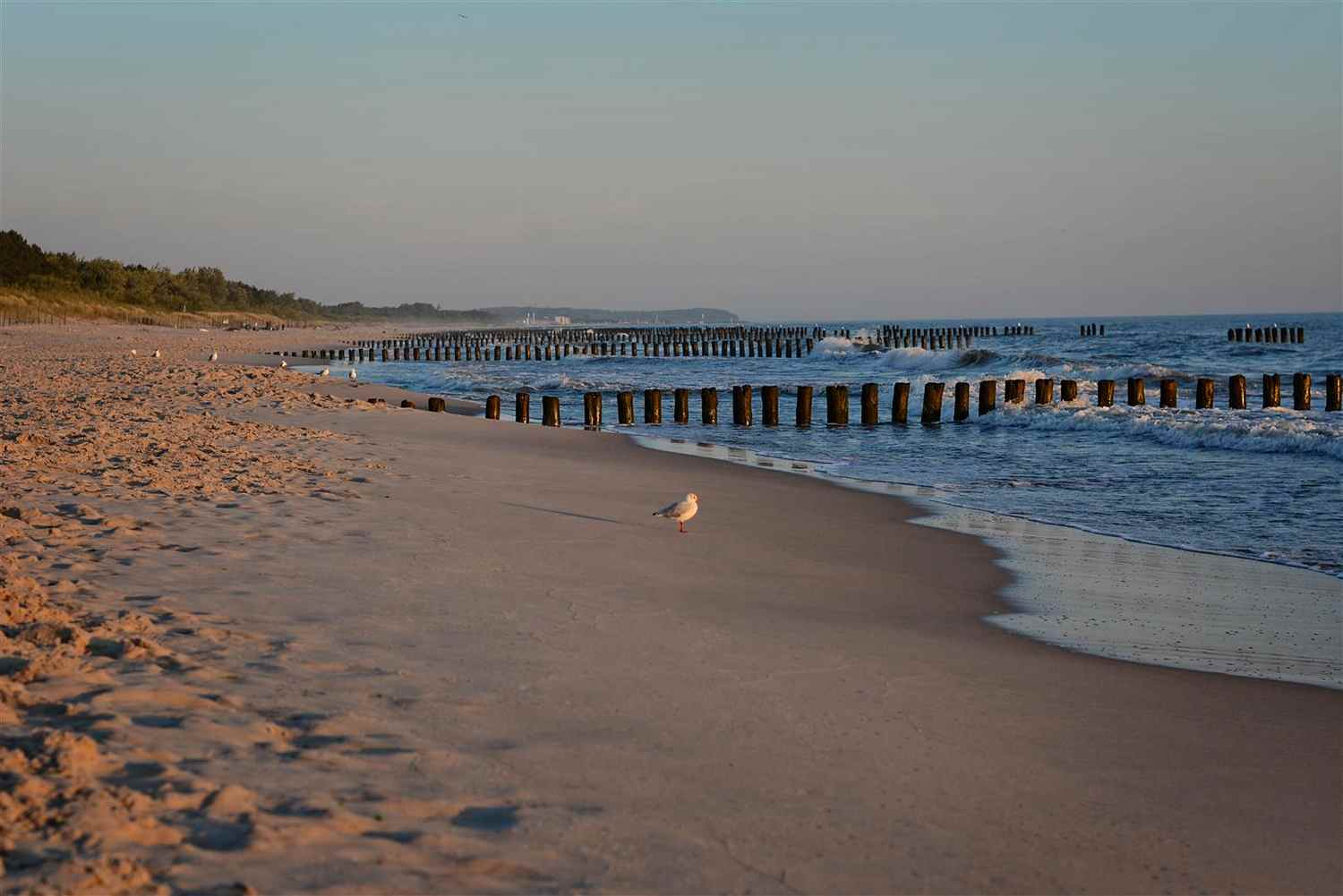 If you are looking for a popular and simply beautiful place on the Baltic coast, sandy Hel peninsula is unquestionably your choice. This tiny scrap of land (just 35 km long) is super narrow and surrounded by the waters of Gdansk Bay and Baltic Sea. Sandy beaches are occupied by windsurfers and kitesurfers, as it winds a lot here! If you like biking or hiking, you will also love it. Take a stroll by the sea or through peaceful pine forests that surrounds the beaches.
When to visit: May, June, September – perfect time to enjoy sun but not get scared by summer crowds
Closest big city: Gdańsk
You will find more our recommendations for your trip to Poland in the posts about main Polish cities and small towns.